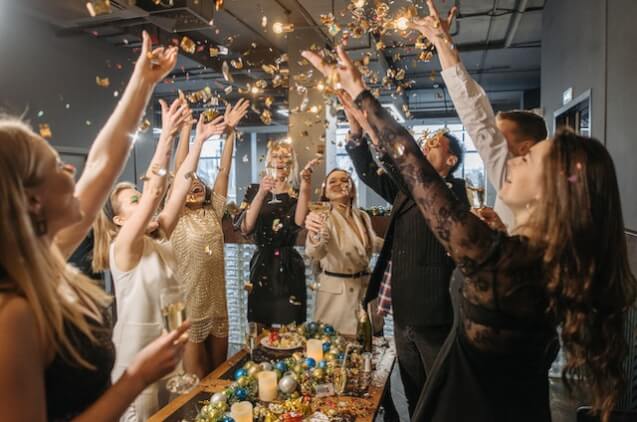 Picking the ideal theme will help establish the mood for corporate events, whether you're organizing a team-building exercise, gala, or business meeting. Moreover, using themes for corporate presentations, training, and development programs and conferences may also help simplify the delivery of difficult material. However, picking a theme isn't easy. When you're hosting an event with a theme, you must make many judgments based on your theme, like picking out the location, the perfect menu, graphics, a good event soundtrack, and even live entertainment. So, if you're struggling to develop a fresh idea, check out our creative theme ideas for your next corporate event!
Summer Barbeque
There's nothing quite like a classic summer barbeque for a little chill team-building. It's a lot less formal to spend your time together outside of the office and without the need to dress up. This fosters a relaxed environment where all your team members and employees feel more inclined to relax, chat, and network with others around the firm. This is one of those business event themes that doesn't feel overly corporate.
A park setting beside a lake is ideal, and it's typically a free or inexpensive choice. You won't have to worry about the size of the crowd, and you can also ask your employees to invite their spouses and family members to join the fun. To achieve the theme, consider using or renting things like balloons, checkered blankets, large white tents, and picnic tables with plaid tablecloths.
Don't overthink the menu. Serve hamburgers, hot dogs, potato salad, and corn on the cob. Moreover, keep it simple with chilled beer and lemonade. Finally, set up easy outdoor activities like cornhole, badminton, or croquet. Start a corporate tournament and have all teams participate in classic field-day events like dodgeball or relay races.
To make it more interesting, you can even host a cook-off during your picnic.
Throw an 80s Party
Take a trip down memory lane to the 1980s with huge hair, shoulder pads, and extensive eyeliner for a business party theme that rocks. To finish the appearance, adorn visitors with headbands, bracelets, and necklaces that glow in the dark. Dressing up like this will be fun both for those trying to relive their youth AND those employees that were born long after the 80s. All this combined, you're guaranteed to have an unforgettable evening. Just make sure you take lots of pictures!
Decorate the place in true 80s fashion with plenty of vintage-style band posters, boomboxes, and colorful balloons. A live 80s band will round off the evening, filling the dance floor with hits from bands like Bon Jovi, Spandau Ballet, and Dexy's Midnight Runners.
Escape Room
Another on the list of our creative theme ideas for your next corporate event is to escape the office by going to an escape room. An escape room is an enjoyable activity that tests participants' ability to gather information, solve riddles, and cooperate to achieve a shared objective. It makes sense why it's a well-liked team-building exercise.
An escape room is also a fantastic method to encourage teamwork and critical thinking, whether it's in your event venue or off-site. The subject of the exercise can also be customized to your preferences, ideally something related to your company or your workers' areas of interest. Finally, don't forget to set a time limit for participants to finish the escape room. The winning team will then get awards as payment for their hard work. After all, who doesn't enjoy winning something?
In recent years, escape rooms have really seen a surge in popularity. While an escape room may not be as exciting as a party, it's still a great way for the team to bond outside of the office. If you ever need to leave your office for something like a renovation or a move, this can be a great activity. Of course, even while you're moving offices, you have to find ways to keep your business running, so make sure your team is ready to get back to work as soon as the relocation is complete.
People generally love being recognized for their hard work why not make an event out of it?
Host a Corporate Award Show
While the idea to host a corporate award show may seem straight out of The Office, don't write it off just yet. Hosting an event like this makes for a fun evening of camaraderie, letting their hair down, and real gratitude. To start, make a list of entirely satirical awards. To make the awards more intimate, allow teammates to vote for one another and suggest the awards themselves. Nobody should take themselves too seriously on a night like this.
Go all out with the decor and reserve a steakhouse (not a Chilly's) or a black-tie location. Think dramatic drapes, a crimson carpet, and white linen napkins. Serve champagne, wine, and cocktails as part of the catering for a posh gala dinner.
If you want to fully commit to the bit, don't send out regular email invites. Instead, create authentic invitations for the whole team. It's the little things that make the event stand out!
Outdoor Movie Showing
Over the past few years, outdoor theaters have grown in popularity as business outings. If you have access to an outside area, invite customers and staff to enjoy the outdoors and watch popular movies together. After the movie, host a competitive quiz between teams to add some friendly rivalry and work on bonding inside the teams.
To host this event, you'll need a projector, a large white screen, and plenty of comfy chairs and blankets. Bust out a popcorn machine and other popular cinema snacks. If your employees are wary about spending their evenings away from their families, choose a popular movie, and ask them to invite their families to the event as well. Free food and fun for the whole family = a memorable corporate event!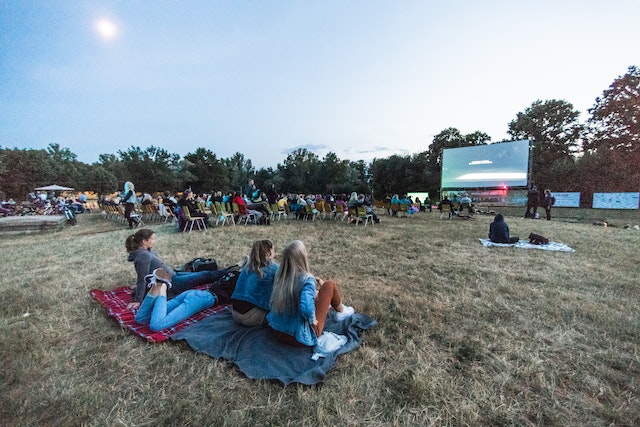 Outdoor cinema night is one of the perfect theme ideas for your next corporate event.
Final Thoughts
If you're thinking of hosting a corporate event, the sky is your limit. There are plenty of creative ideas for your next corporate event nobody even thought of before! To find the ideal theme for your employees, take notice of their interests and hobbies, so you can tailor the event to their liking.