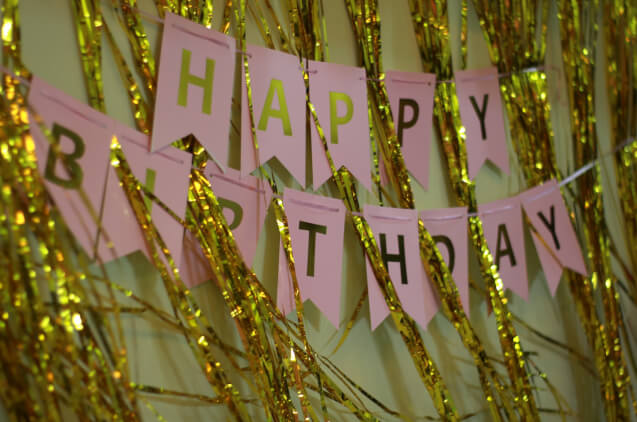 Birthdays represent one of the greatest and most beautiful moments in life. Regardless of birth order, each one is special and equally important. However, when it comes to the famous sweet sixteen birthday, a large number of people can confirm that it is one of the most exciting for them! A sweet sixteen is a significant coming-of-age celebration that honors a person's development and accomplishments as they near young adulthood. If you think you have run out of ideas for the best sweet sixteen party this fall, stop for a moment. Numerous possibilities are in front of you, depending on the time of year when the birthday is, the theme of the party, etc. With that said, don't lose heart and indulge yourself in planning your unique sweet sixteen party. Explore some of the following options and enjoy planning all the other aspects of the birthday celebration.
Space and party supplies required
A situation can happen in autumn, but it is still sunny. Sunny enough to host a birthday party outside. Assuming that many friends are coming to the sweet sixteen birthday party, you should have enough equipment for the party outdoors. Also, in order to provide you with the best possible sweet sixteen party, you will need a lot of party supplies. It is desirable to consider the option of renting a storage unit. Why? Well, this could be helpful when preserving your party supplies so that they remain safe and undamaged. Extra space for all things like chairs, tables, and party decorations can be very useful. In this manner, you'll be able to present your party food and refreshments in a fashionable way. All this is thanks to the space that serves you to store furniture and other needs for birthday occasions.
Masquerade party perfect for fall
Among the ideas for the best sweet sixteen party this fall is a masquerade ball. You can rarely go wrong with this party theme. If you're wondering how to host a stress-free birthday party, this kind of party might be the answer. You can tell all the invitees not to dare to come to the party without a mask. If you decide on such a themed party, the choice of decorative details and potential masks is huge. You can, for example, use a lot of silk or velvet drapes in a color that goes with your concept all around the place. Lightning is also one of the details that will contribute a lot to the whole atmosphere of the birthday party. Candelabras and candles are excellent mood-setters. But if you'd prefer, you could also create a magical atmosphere by using light strings or twinkling lights.
Halloween party
If you are lucky and celebrate your sweet sixteen birthday at the end of October, this kind of party is a perfect idea. Everyone can disguise themselves according to what suits them best. With front porch-specific outdoor Halloween decorations, you can enchant the entire neighborhood. This manner of celebration will be known to all friends, who will be happy. You can take care of making your decorations, which will incorporate both Halloween and sweet sixteen celebration elements. You can use the pumpkin detail as a house for scented candles or lighting. You can disguise yourself as a princess in pink and thus be in the center of Halloween itself. At the end of the day, the most important thing is that you celebrate your unique sweet sixteen the way it deserves.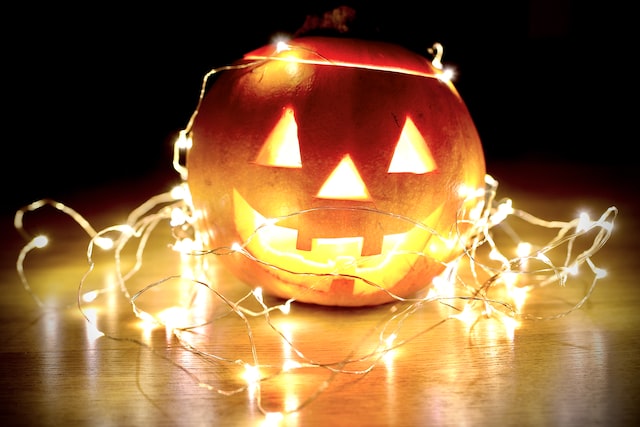 A pumpkin as lighting decoration for one of the ideas for the best sweet sixteen party this fall
Camping by the fire
Going to nature with a few tents and waiting for midnight, your sweet sixteen birthday - by looking at the stars sounds irresistible. It is inevitable to say that this way of celebration is one of the best ideas for the best sweet sixteen party this fall. In this case, for planning an unforgettable tented party - you will not need a lot of time and worries. Party foods like hotdogs and marshmallows are a must. Of course, with the obligatory lighting of fire around which you will spend an unforgettable time with friends. Roasting hot dogs and marshmallows and singing while playing the guitar can contribute to the whole impression. And then, at midnight, when you turn 16 - you will be greeted by gifts in your tent, and you will witness one of your best birthday celebrations.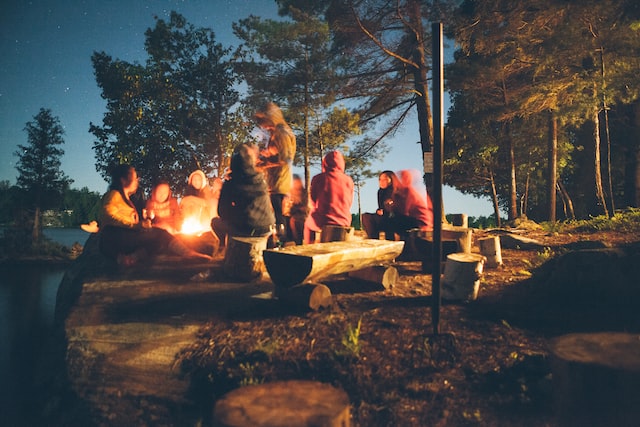 Camping and gathering around the fire is one of the excellent ideas for the best sweet sixteen party this fall
Indoor birthday party
In the period when autumn is already cold and rainy, the possibilities for organizing a birthday party outside are running out. That doesn't necessarily mean that the indoor party won't be just as fun. Comfort, fun activities, as well as decorations can still be best arranged in the interior space. However, they can actually present good ideas for the best sweet sixteen party. Fun activities you can do for your sweet sixteen party with friends can be some of the following:
karaoke competition

playing board games

movie marathon

dancing all the time

cooking competition
When we mention decorations - balloons, decorative candles, napkins, and plates are mandatory. Considering that the weather is colder, sunflower inspiration can be a good option. It can serve to bring some sunshine to your sweet sixteen party in the fall. Be sure not to forget the tiara and lighting, as well as hiring a photographer who will capture the memories. You can also hang curtains in cheerful birthday colors to ensure the most beautiful and best atmosphere. Decorate your birthday table with colorful drinks. Give your party attendees creative cocktail adornments, including fruit wedges, miniature umbrellas, and vibrant stirring sticks. Not only are they a delight for the taste buds, but they also serve as a cheerful decoration for a party.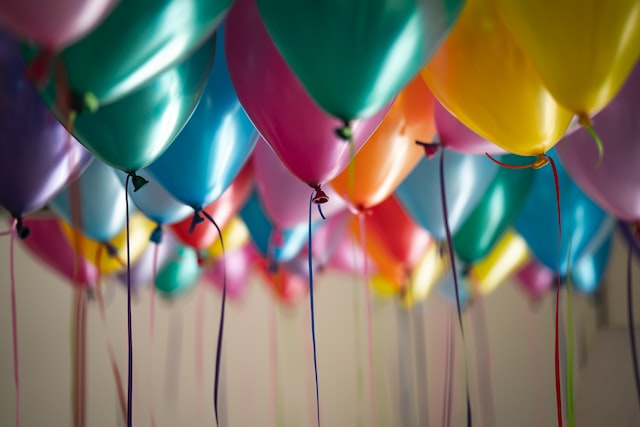 Colorful, cheerful balloons are a great idea for a sweet sixteen party
A scavenger hunt is never a bad idea
When celebrating a birthday, you can always have fun with your friends with this type of game. Making a list of items that participants must find, request, or capture is the premise behind a scavenger hunt. The activity works well for both small and big groups and is flexible. It represents one of the simpler but no less fun options. This can serve you when you can't think of anything else as a way to celebrate your birthday. It's great that you can also combine this so that certain objects will be used for birthday parties. That way, you won't lose your sweet sixteen birthday, and at the same time, you'll have fun in another way!
Sleepover party
Inviting friends to a sleepover as a form of birthday celebration always sounds good. You have plenty of time for all the activities you want to do. Make your own or purchase attractive invites with images like sleeping bags, torches, and pajamas. Also, make yourself a party by preparing a meal or making a cake. Cake-making time together can turn into unforgettable memories. You can organize a pillow fight or a tea party that would go perfectly with autumn as a season. Board games are always an option during sleepovers, as well as truth or dare games. You can arrange for everyone to wear the same pajamas, or at least in the same color. Organize a photo booth and make the sweet sixteen party unforgettable that way. You can also watch a scary movie, decorate birthday cakes, and pop popcorn.
Spa time
As one of the ideas for the best sweet sixteen party this fall, spa time must be considered. A party that includes spa activities never goes out of style and is always interesting. Pedicures, manicures, facials, and makeovers are some of the nicest things to do during sleepovers. By making some homemade face masks for the special day, you might commemorate the achievement with a day of relaxing at your home. By including slippers and eye masks, you can add a special touch to your at-home spa day birthday celebration. For drinks, you could use an infused water recipe or one of the other non-alcoholic beverages to refresh. For instance, fruit juices or rosemary lemonade are ideal for the situation. You may also add some soft, calming background music to the scene to complete it. Celebrate your lovely sixteenth birthday in style and with fun in this way.
To sum up
The fact is that turning sixteen represents an important moment in the life of a teenager. The ability of a young individual to obtain a driver's license and employment is one of the crucial factors. Furthermore, they can experience freedom. Additionally, it ushers them into maturity. Taking all of the above into consideration, it's reasonable to consider quite a few ideas for the best sweet sixteen party this fall. Nevertheless, it is an essential moment in the lives of young people. They should celebrate it as it befits and in accordance with everything that awaits them after that. So don't hesitate when the moment comes when you turn 16. Especially if the birthday is in the fall, a sea of ​​options for parties is waiting for you to choose your unique one.