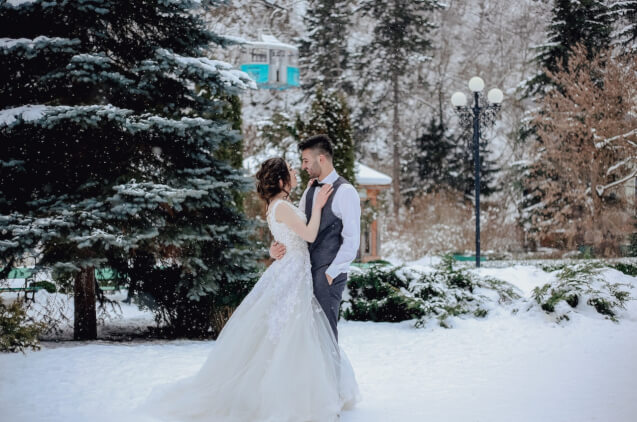 It's the most wonderful time of the year! White scenery and holiday spirit make it perfect for turning a new page in your life. This is why a lot of people enchanted by winter decide to take advantage of this time and make a magical wedding. If you're one of them, check out these exciting ways to do a winter-themed wedding.
Pick a theme and a place to match it
You first need to decide the theme and vibe you want to achieve at your wedding. Themes that compliment cozy winter weather are mostly rustic and romantic. But that doesn't mean that you can't make an exciting twist to a traditional perception of a winter wedding. For example, if you and your future spouse are big fans of winter sports, you can choose to make your theme something more specific and adventurous – a ski-themed wedding, if you will.
Ski lodge theme for the adventurous
A wedding with a ski lodge theme isn't required to be held at a ski lodge. We believe it would be great to put a spin on the typical winter wedding by having the couple go down the aisle on crossed skis and decorating the venue with ski memorabilia. Skiing away from the celebration is also something to consider if you plan to have your wedding at a ski resort. This kind of thing could only happen at a wedding held in the mountains during winter and make your wedding stand out. A moment people will talk about.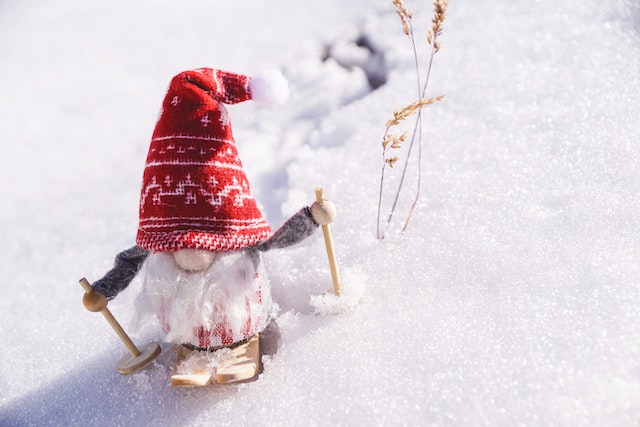 Skiing down your wedding aisle is definitely not for everyone!
Make it feel like it's outdoors
There are many ways to incorporate elements of nature into a winter wedding celebration. Some of the great pieces you can use for decoration are:
spruce

holly

birch garland
It's also nice to have an interior fire pit, preferably one that's hidden from view by a canopy of plants or fake snow. Glass orbs hung from the ceiling may add a touch of romance and mystery to any wedding.
Use glass orbs as part of your winter wedding décor to create a magical winter scene. Rustic furniture, creeping plants, and plenty of candles in an all-white room create a beautiful, uncluttered atmosphere. Then add some glass orbs to the ceiling for a touch of class and mystery. They work just as well when filled with tea lights to create a starry ambiance.
Liberal use of twinkling lights is welcome
A string of sparkling twinkling lights is the perfect way to create the mood for your winter wedding, whether inside or out. The romance of the day is amplified when twinkling lights are hung from the ceiling, used as part of the tablescape, or strung together to form a canopy. If you're planning a winter wedding on a tight budget, these suggestions will come in handy.
Use a lot of candles
Candles are a beautiful way to offset the lack of natural light during a winter wedding. Candlelight adds a warm glow and a romantic glow to any room. Another option is to use battery-operated candles or similar devices as table decorations or aisle liners. Candles are a terrific place to start when brainstorming easy decorations for a winter wedding.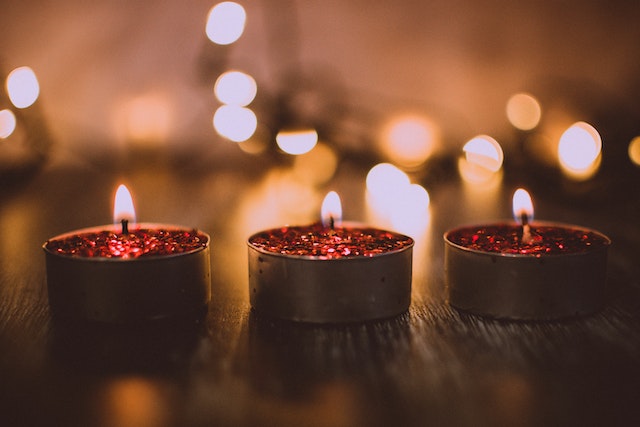 Elegant but practical way to do a winter-themed wedding is by filling the place with candles.
The addition of velvet might be a lovely detail
Velvet is the season's must-have fabric, and it will give your wedding an air of rich warmth. It's not only skirts, jackets, and bow ties made of velvet that exude class – velvet may also be used decoratively. This luxurious material is stunning whether used as a table runner, as an upholstery fabric, or as a ribbon for a flower arrangement. But make sure to take good care of your velvet, as it needs special care during winter. Storage professionals suggest keeping velvet stuff in storage until the big day to protect them from the weather and make sure it looks flawless on the day.
Hot beverages are an essential part of every winter-themed wedding
Serve hot beverages to visitors as soon as they come to make them feel at home and comfortable. Hot chocolate, tea, coffee, or a hot toddy are just a few of the various alternatives. There's no such thing as a bad warm dish. Consider setting up a hot cocoa bar with all the fixings, such as whipped cream, marshmallows, chocolate syrup, and peppermint sticks. These creative ways to keep your guests warm throughout the wedding ceremony and reception are sure to be well received.
Cold drinks are necessary too
Another creative way to make your winter wedding memorable is with a signature drink. The reception could not have been more perfect if you had served a specialty cocktail. Cocktails with cranberry champagne mulled wine or darker liquors like bourbon or whiskey are also good options.
And, of course – Her Majesty, THE dress
You can find an abundance of dresses for a winter wedding. A long-sleeved dress is ideal for the colder months, but you may also want to bring a coat, fur, or shawl for more versatility. It's not true that winter wedding dresses all look alike. If anything, there are so many dress styles that could make you feel like the queen of ice and still keep you warm on your big day.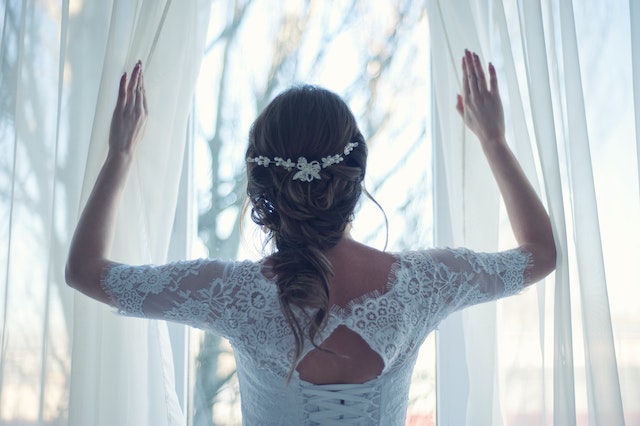 Pick a dress to compliment your magical winter wedding.
Final thoughts
Winter is when we reflect on our lives, prepare to open a new chapter and wait for rebirth. If you're ready to write a new book with your partner as a co-writer, this is definitely a time for that. As for the organizational part of it, you can't go wrong with a winter-themed wedding. You can opt to make a romantic setting or an exciting adventure. A lot of little things can add a little spice to it. So, consider all the things we mentioned above and choose just the right one for you. Now, go write that book and start with the most colorful and exciting first page!