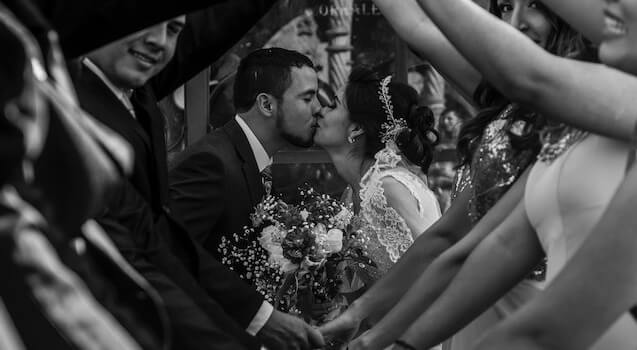 Fun Party Extras to Rent for an Original Wedding
You and your spouse getting married is the primary goal of any wedding, right? Beyond that, though, it may very well be the biggest party you've ever hosted. Additionally, we associate the term "party" with a lot of fun. And not just for the visitors, but also for the two of you. Therefore, to help you plan the wedding everyone will talk about for years, we've packed a list of incredibly entertaining fun party extras to rent for an original wedding. So let the party begin!
Bars are fun party extras to rent for an original wedding
One advantage of renting is you can use items beyond what your venue owns or offers. For instance, if your indoor or outdoor location doesn't have a bar, a rental company could supply one. It's necessary to consider the event's arrangement when renting one of these large items. Therefore, before selecting rentals, you must have a general notion of the event's design. The design and floor plans provide a unified appearance and offer context for the party extras you wish to rent. So why not start the celebration with a few drinks from a mobile bar service? For example, a decorated trailer fully equipped with everything needed is perfect for an outdoor wedding.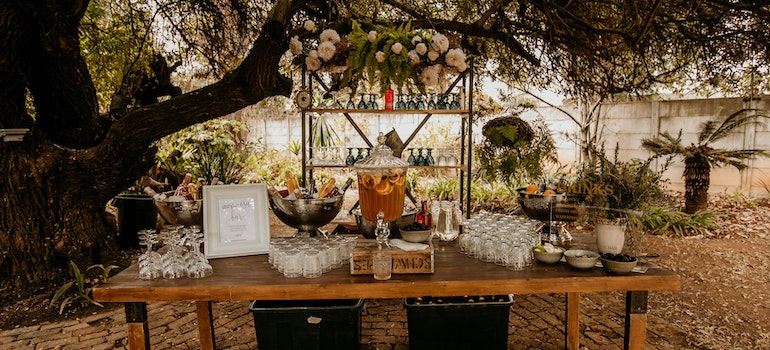 Bars are part of the fun party extras to rent for an original wedding.
Cocktail fountains are a must
Despite how fun vodka luges are, freezing ice blocks take a lot of energy. Therefore, consider renting a cocktail fountain instead, which can pour everything from Cuba Libres to Mojitos. Like a chocolate fountain, it continuously flows with all the delectable treats. They only require electricity, which reduces the amount of glass and plastic used and washing if guests fill the same glass. If you want to do something even more environmentally friendly, you can rent glass drink dispensers and fill them with specialty cocktails.
An ice cream truck will delight your guests
People attend weddings for the cuisine and the open bar. But have you thought about including a special dessert that everyone will enjoy? After all, making your guests feel unique and valued on your joyful day is what you wish for. And let's face it. Feeding them during the celebration is crucial as many weddings go from several hours to half a day. Therefore, your wedding is the ideal time for an ice cream party. It saves you time, is stress-free, and is inexpensive.
Additionally, it is a unique dessert that will be remembered long after the wedding. Just picture the delight and astonishment on everyone's faces as the ice cream truck appears at your venue. And don't worry. Having ice cream at your wedding doesn't exclude the cake. Having both will make it the most memorable wedding for your guests.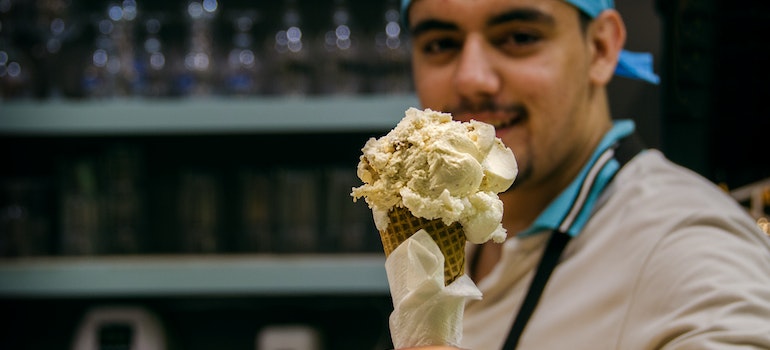 Everyone will scream for ice cream from your wedding ice cream truck.
Bubble machines for the child in you
Bubble machines are other fun party extras to rent for an original wedding. After all, wedding bubbles are an excellent substitute for confetti since they don't create as much of a mess as they, rice, or rose petals do. In addition, bubbles look stunning on the spot and in photographs. They are also perfect for engaging guests in your celebrations. However, if you don't want to rely on your visitors to blow bubbles, bubble machines may produce a steady stream of bubbles. Moreover, they come in handy on windy days when blown bubbles are easily blown away. In the end, a bubble machine is a terrific option to rent if you consider including bubbles in your wedding photos.
On the other hand, bubble machines are also great to have for other parties or your kids. So buying one is also a great idea s they are inexpensive. However, if you ever move within Philadelphia, for instance, hire packing professionals to help you pack fragile items such as bubble machines. After all, pros can do it right so that you can have a relaxing and safe relocation.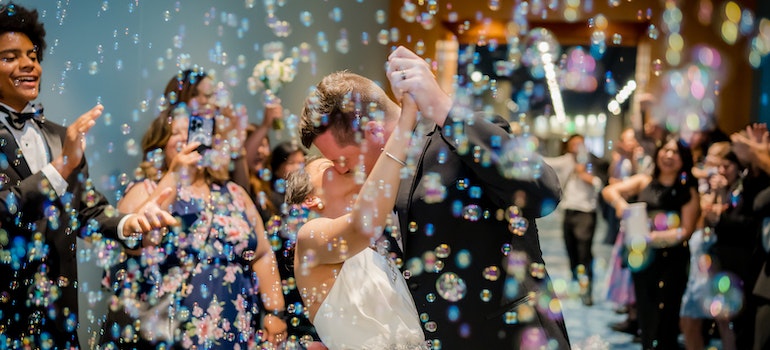 Bubbles will make your wedding photos look fabulous.
A bounce house will secure the fun
We can assure you that having a bounce house at your wedding or reception will make your guests speak about it for months to come. You will be the only one among your friends to have done this at your wedding, and it will generate priceless memories with your friends and family. In truth, some of the finest pictures of your special day will be taken in the bounce house. Imagine having photos taken while you and your wedding party are leaping around and having a blast. Priceless! In addition, if you invite kids to your wedding, the bounce house might be a fantastic way to keep them entertained. Children find typical weddings dull, so having this at your wedding would be exciting.
Use gaming tents for entertaining and bonding
Pop-up gaming tents and parties are incredibly well-liked, although they are relatively new party entertainment options, particularly for weddings. However, your wedding could be different from those of your friends and former classmates, making it unique. For instance, a gaming tent may ensure that everyone has something to do as your wedding day extends into your wedding evening. After all, not everyone is a competitive dancer or likes to pose for funny photographs in a photo booth full of props.
At the same time, a gaming tent at your wedding might be a refuge for kids who are starting to feel drowsy after a long day, aren't interested in dancing, or just want to escape from all the grownups and their talks. And if you are lucky enough, they will get to know the kids of other wedding guests and maybe form bonds with distant cousins or family members.
Final words
As you can see, there are many fun party extras to rent for an original wedding. All you need to do is pick your favorite and integrate it into your plans. If you want, you can combine some ideas and have a truly unique wedding that will become a reference for your friends and family.