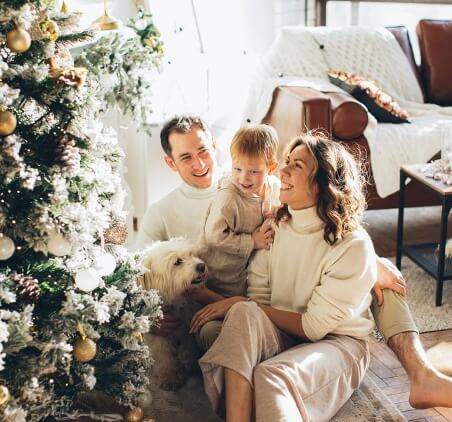 Photo credit: Pexels
You spent months looking for a new house, you toured several, you made an offer, and you moved in. It was a lot. But the holidays are around the corner and you don't want to miss out. You probably bought your new house with the idea that you would entertain and keep house guests. But maybe you're still living out of boxes.
Whether you are ready or not, your friends and family want to see your new house and you really want to enjoy your first Christmas in your new home. Rentall Affairs shares a few tips to help you prepare.
Create Your Own Family Traditions
Holiday times are about family traditions. Maybe your family enjoyed an annual drive to view holiday lights, or perhaps you had a traditional gingerbread house decorating contest. Make this year about creating new traditions for your new neighborhood. Maybe there's a new park for sledding or ice skating. And you've got your comfy new home to come home to for hot cocoa.
Holiday Cards -- Sending out holiday greeting cards is a personal preference. You may like a traditional store-bought card, a custom photo card, or you may even want to consider sending out a letter. Holiday letters can be a great way to tell the story of how you found your new house. And whether you send out physical cards or ecards, Shutterfly notes that it's a great opportunity for a family portrait featuring the new home.
Secret Santa -- HGTV explains there's no greater way to connect to your new neighborhood than giving back. Decide on a cause you're passionate about and volunteer. A gift for Toys for Tots or collecting a box of needed items for the Humane Society are just a few ideas. This can be a bonding annual tradition that keeps the meaning of the season for your family.
Holiday Dinner -- You've got a new kitchen. Maybe you picked out a house with a deck for grilling, or a kitchen island to set up a buffet-style dinner party. What new tradition can you start for your annual holiday meal?
Should you throw a party?
On the one hand, you've been through a lot, buying and moving into a new house. On the other hand, a house-warming and holiday party is in order. Take some extra time off from work if possible. ZenBusiness suggests being sure to leave work behind while you're in hosting mode, as you need to be in the moment for you, your family, and your guests.
Maybe you've got unfinished rooms, rooms you plan to paint, or rooms that still need furnishing. Don't fret. You can offer tours but keep the party in the main rooms. If you're really not ready, you can always offer virtual tours and put the party off until the right time.
People will want to get you housewarming gifts. If you aren't shy about it, you can create a wishlist, so as not to get six toasters. Or you can always ask for ornaments. You'll always have them, and over the years you'll remember everyone who came to share your first holiday season in your new home.
Should you invite guests to town?
Again, you don't want to take on too much, but you do want to show off your new home. Maybe you've got adventurous guests who won't mind helping you break the place in. As long as you've got the extra sheets and enough clean towels, you can probably put them up. If not, you may have to stick to the video phone call this first Christmas. Yes, we all really want to see each other after 2020, but it also made video calls acceptable, so that even Grandma knows how to Zoom.
Holiday Gifts For Your New Household
Whether or not you throw a housewarming party, your friends and family will want to get you gifts for your new home. It's a great opportunity to get new things that will last a long time. A new set of dishes, or a new set of tools. A ladder, a wet / dry vac, or a robot vacuum.
You can surprise your partner with gifts for the home that are also personal. Do they have a home office that still needs to be set up? Do they need a new robe to go with the new bathtub? Does the new garage need storage shelves? Could you use an espresso machine for the new kitchen?
Your first holiday in your new house will be one you'll always cherish. Take the time to start some new traditions and get ready to show off your new home.
Rentall Affairs has ALL the party rental equipment and decorations you need for your next special occasion! Contact us for more info! (215) 355-3125