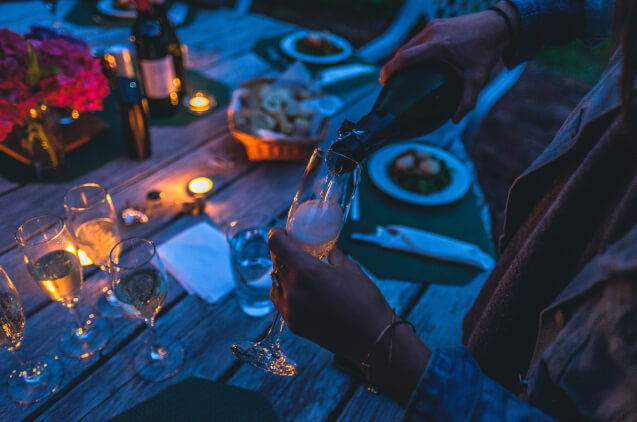 A garden party is the epitome of elegance and sophistication. If having tea in a garden isn't your idea of a good time, there are still plenty of options for throwing a fantastic party in a garden setting. Suppose you're attempting to arrange the perfect outdoor party but feel stressed by the possibility of bad weather or other unforeseen problems. In that case, you should go for a backyard dinner party with a tent. Have a read-through to pick up some pointers on hosting such an event.
Choosing the tent
Choosing the right tent for your outdoor party is crucial. The atmosphere of the entire gathering will depend on this. A tent is one of the most popular rental items for outdoor parties. Here are some options.
A canopy tent
Canopy tents are tension tents held by poles in the middle and guy lines at the tent's edges. This style of tent has the lowest price and is the most common.
A sailcloth tent
The sailcloth tent is an open-topped pole structure with rounded corners. A sailcloth tent is a great way to make a statement with your backyard party. It will be an eye-catching sight in your yard with its wooden poles and lofty roof peaks.
A Victorian tent
Like the canopy tent, the Victorian tent is held up by a pole in the middle and guy lines on the outside. This type of tent, however, provides a few extras and comes in greater dimensions.
The Victorian tent's apex is very pitched and topped with towering, white peaks. Your backyard party will be the talk of the town when you put up this tent.
A frame tent
The frame tent is the most versatile option since it comes in many sizes, making it possible to set up virtually any area. Because of the internal frame, you won't need center poles or guy lines with this tent.
Using the weights provided, you may put a frame tent on any hard surface, including patios, pavements, cement, or brick. This is a fantastic alternative if staking is forbidden or the area is too small.
The party
It's not only about the tent if you want to host a fantastic outdoor party in your garden. Create the perfect setting for your event by carefully considering the decor's colors, textures, and arrangement. If you are trying to organize a move-in party, choosing the most appealing décor can lead to meeting your new neighbors! Here are some ideas to draw attention to your dinner party.
Lights
Backyard party lights will allow you to continue the celebration even after dark. Having a warm and wonderful outdoor supper is possible with the proper illumination. Your dinner party will immediately seem more intimate with the addition of twinkling string lights strewn around the table. Alternatively, if your location permits, use candles en masse. Lanterns, tea lights, gold candlesticks, and white candles will look lovely on your table.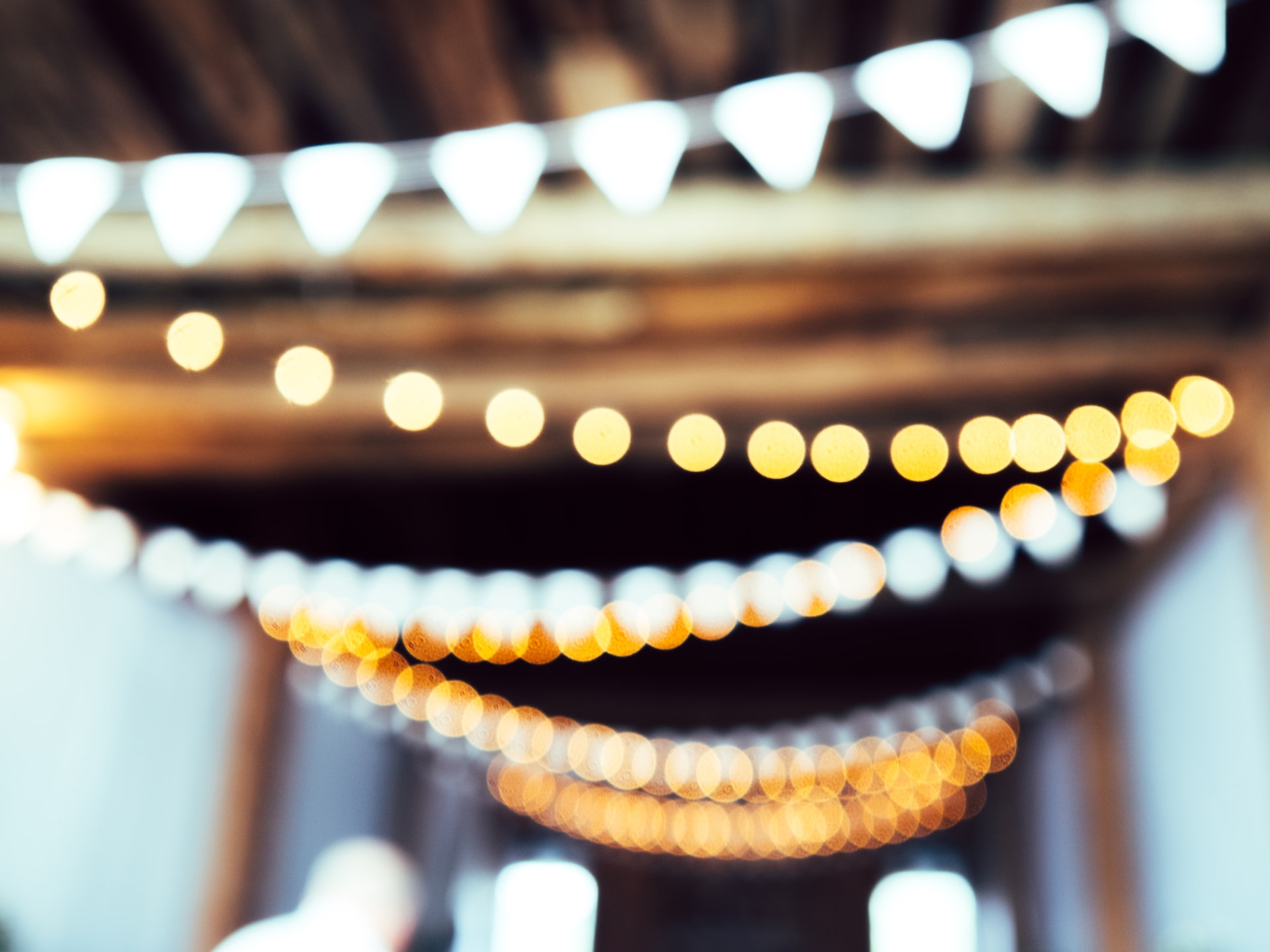 Lights can make or break the atmosphere of your backyard dinner party with a tent!
Tables and chairs
In terms of practical difficulties, this is the biggest one. Beautiful, custom-made patio tables are available, but many more subtle choices are also available. A huge plank of wood purchased from a hardware shop may be set on cinder block legs to create a sturdy DIY low table; a tablecloth can be used to hide the hardware if desired. If you're expecting many visitors, you can forego the chairs and have your guests sit on the floor or benches with throw cushions.
With the relaxed atmosphere of an outside meal, the table may be decorated however you want! If you want to start with a clean slate, lay down a tablecloth or runner, or place a mat. It's not necessary to spend a lot of money on whatever you decide on. You may buy yards of any lovely fabric and cut it to achieve the lovely fray at the ends.
Matching sets of crockery, flatware, and glasses in vibrant colors and patterns or earthy tones may be a nice touch.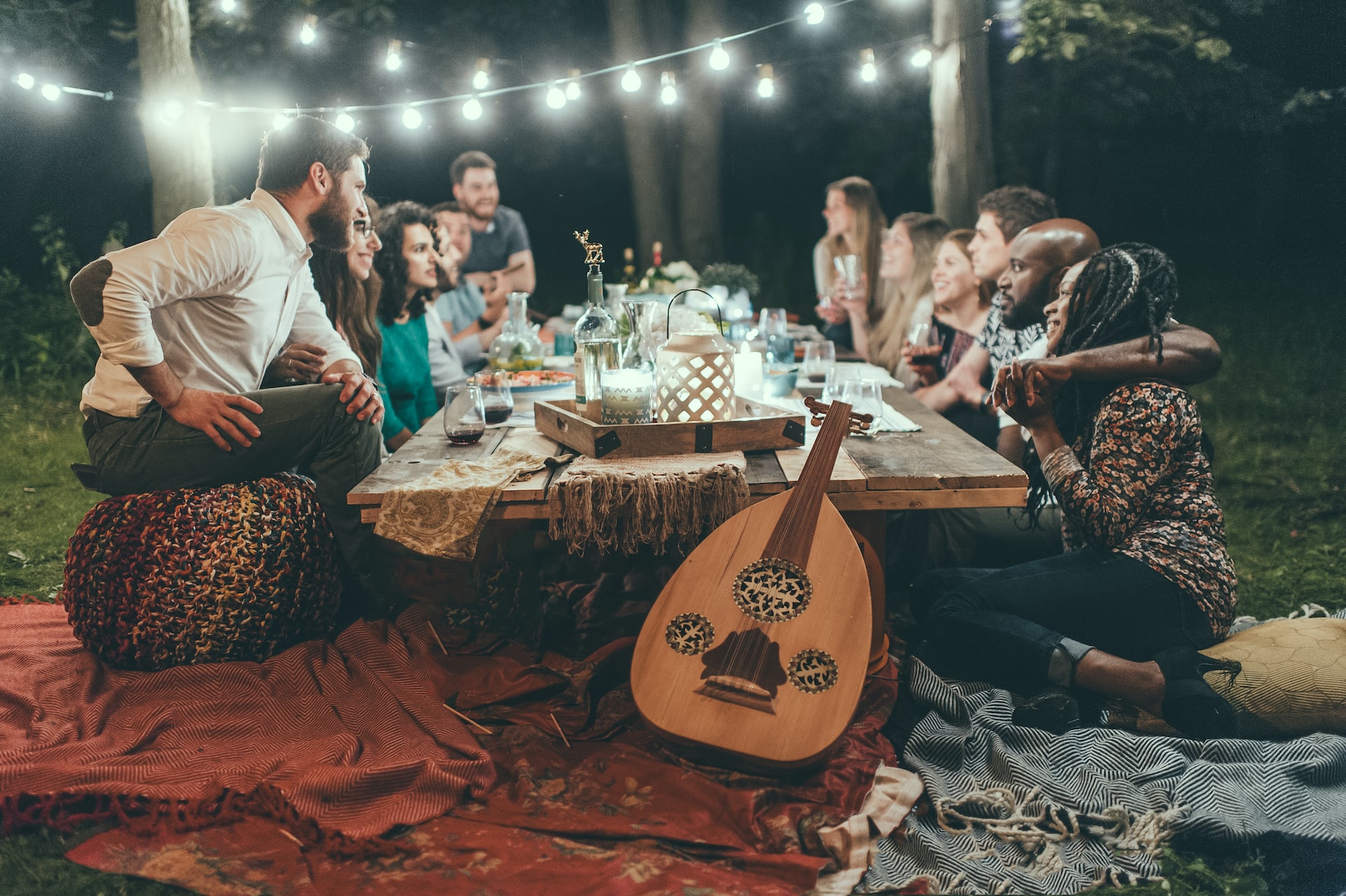 Ditch the chairs if you're having a huge party!
Floral centerpiece
Add a gorgeous centerpiece on the table for the final touch. In the summer, making stunning table centerpieces with flowers, branches, and long grasses gathered from the yard or forest or purchased from a florist or deli should be simple. If you're organizing a sweet sixteen party in the fall, get some seasonal plants and dry leaves. The options are endless!
With a circular table, it is natural to place a tall vase in the center and fill it with your trimmings. But, if you have a rectangular table, the story is different. In order to make a rectangle table look more attractive, place a row of smaller vases along the center.
Music
Making a killer playlist should be at the top of your to-do list if you want your outdoor party to go off without a hitch. You can create the perfect environment for your party with the aid of specific tunes. If you're planning a holiday party, get some jolly songs. The music for your garden party should reflect the mood and atmosphere you want to create for your guests, so once you've settled on a theme, sit down and make a playlist.
Food
Having delicious food available is one of the greatest ways to guarantee a successful backyard dinner party with a tent. Food costs need not be high for this to be the case. Your guests won't know the difference between a professionally provided lunch and one you prepared yourself with tea and petit fours. Make sure there's more than enough food for everyone attending your party to eat so that nobody goes away hungry.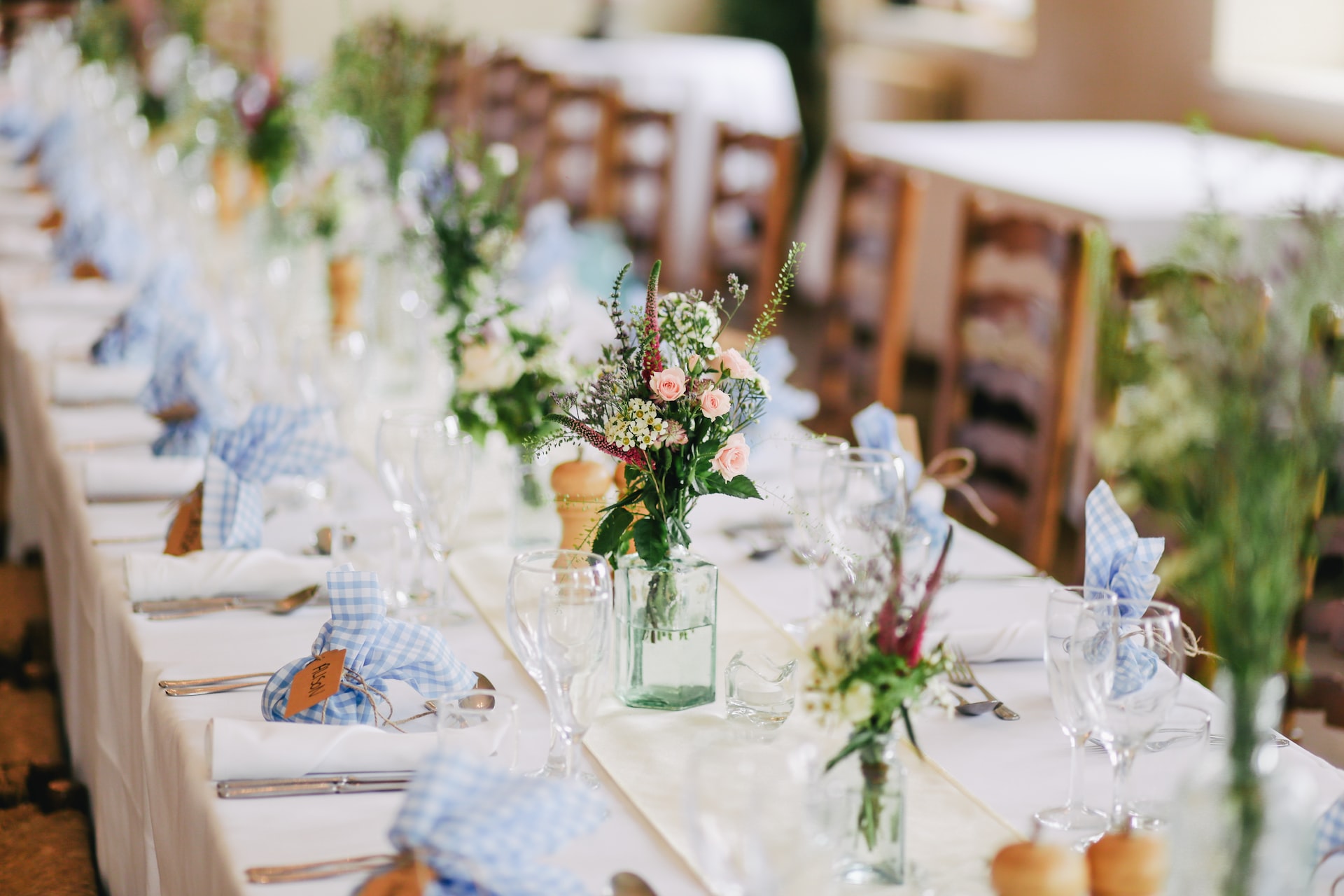 A beautifully decorated table will set expectations for delicious food!
Ensure your guests are comfortable
If your guests aren't relaxed and enjoying themselves, it won't matter how beautiful your party is. The safety and comfort of your guests depend on your ability to keep them out of the elements and at a reasonable temperature. Renting a party tent is the best way to ensure your guests have a pleasant time, regardless of the weather.
Because of their adaptability, garden party tents allow you to do whatever you want with your gathering. A party tent may provide shelter from the elements and help you get the style you desire, whether a sleek, traditional one or something more eclectic and fun.
Final words
Instead of wasting time and money hunting for a suitable location, have your backyard dinner party with a tent in your own garden! You can save money and make your backyard the place to party with some ingenuity and do-it-yourself decorating.