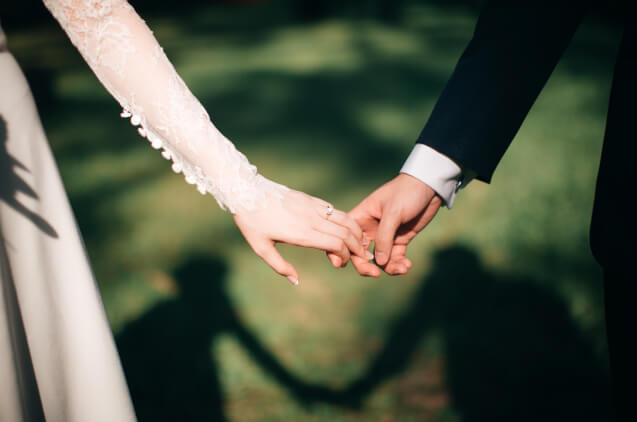 While your wedding day is intended to be the most special day of your life, it can also be one of the wasteful days if you chuck out unnecessary paper items, food, and flowers. We're not suggesting you cancel the celebration or forego the beautiful decorations. Still, if you're concerned about the environment, you might want to think about how to plan an eco-friendly wedding.
This article will discuss some of the best ways to incorporate eco-friendliness into your wedding without compromising elegance or breaking the bank. These suggestions can help you plan a wedding that is both enjoyable for guests and consistent with your environmental values, whether you're being married in a natural setting or just want to reduce the amount of waste generated by the event.
1. Carefully select your site
It's important to give some thought to how you and your guests will get to the wedding site, as air travel and vehicle use are two of the biggest polluters. Traveling by plane is expensive, and driving to a rural location for a wedding is time-consuming. We'll be the first to tell you that your wedding should take place wherever you want it to, but if you're having trouble deciding, consider how many people will be attending and where they might be able to save the most time and money by traveling. Instead of a destination wedding, try searching for a local site. Convenient, less expensive, and eco-friendly!
2. Repurpose items as much as you can
If you want to save money and the environment, consider upcycling household goods to use as wedding decorations. Repurposing everyday items like glass jars, tin cans, wine bottles, and more can produce spectacular displays for minimal cost. When more money isn't required, why spend it? And even better, since you'll be recycling an item, your wedding will have less environmental impact.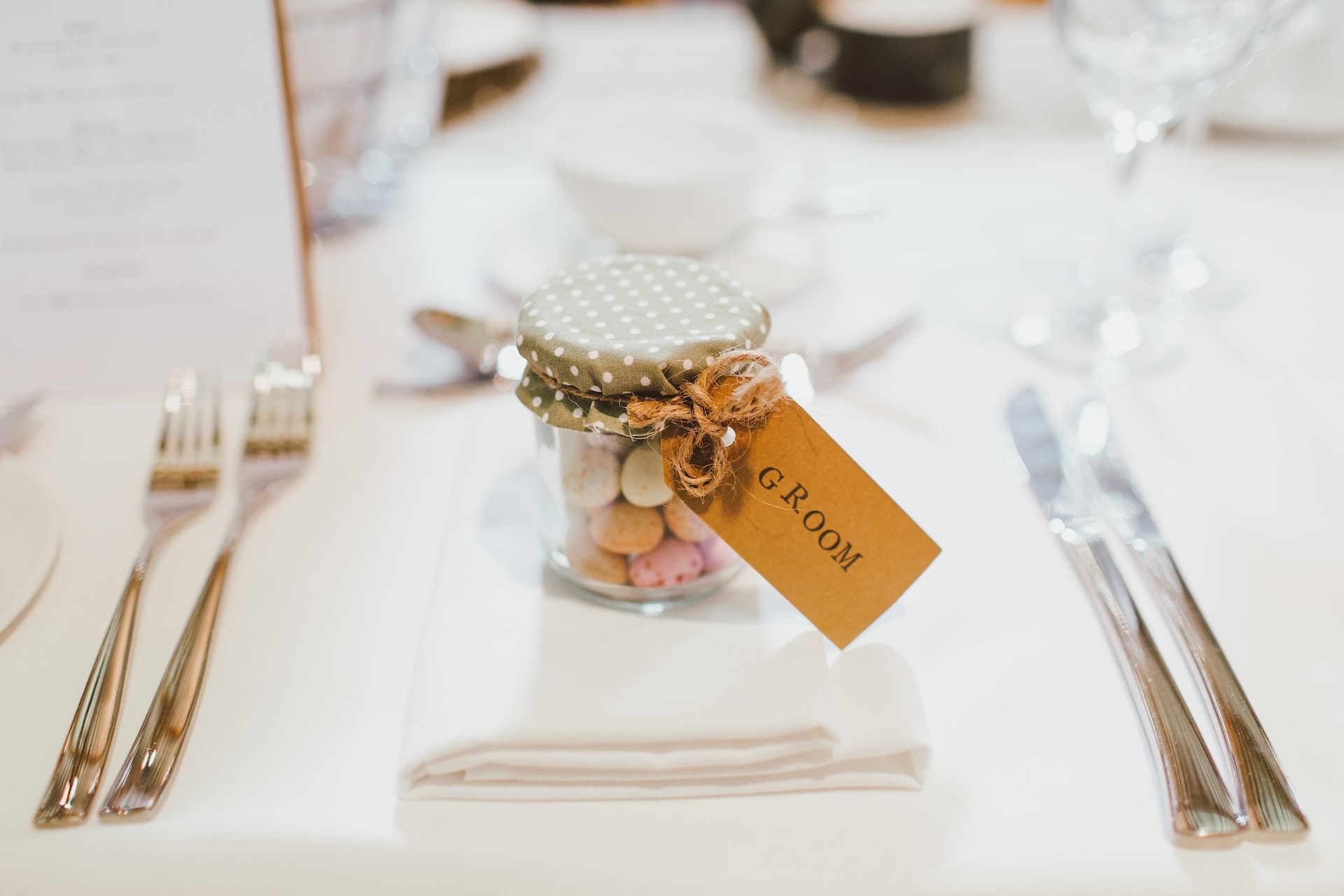 You don't need much to plan an eco-friendly wedding!
3. Have an open-air wedding
Getting married outside can sound a little bit intimidating. But, it can be amazing with some outdoor rental items if you want to plan an eco-friendly wedding. It's a beautiful idea to have your wedding in a natural setting, such as a forest, hills, or vineyard. Weddings held in national parks generate much-needed revenue for their preservation, and a portion of the fees charged at many beaches go toward maintenance and upkeep. Thank the sun for reducing your demand for artificial illumination and your subsequent energy savings. To top it all off, think of all the fantastic photos thanks to the abundance of natural light!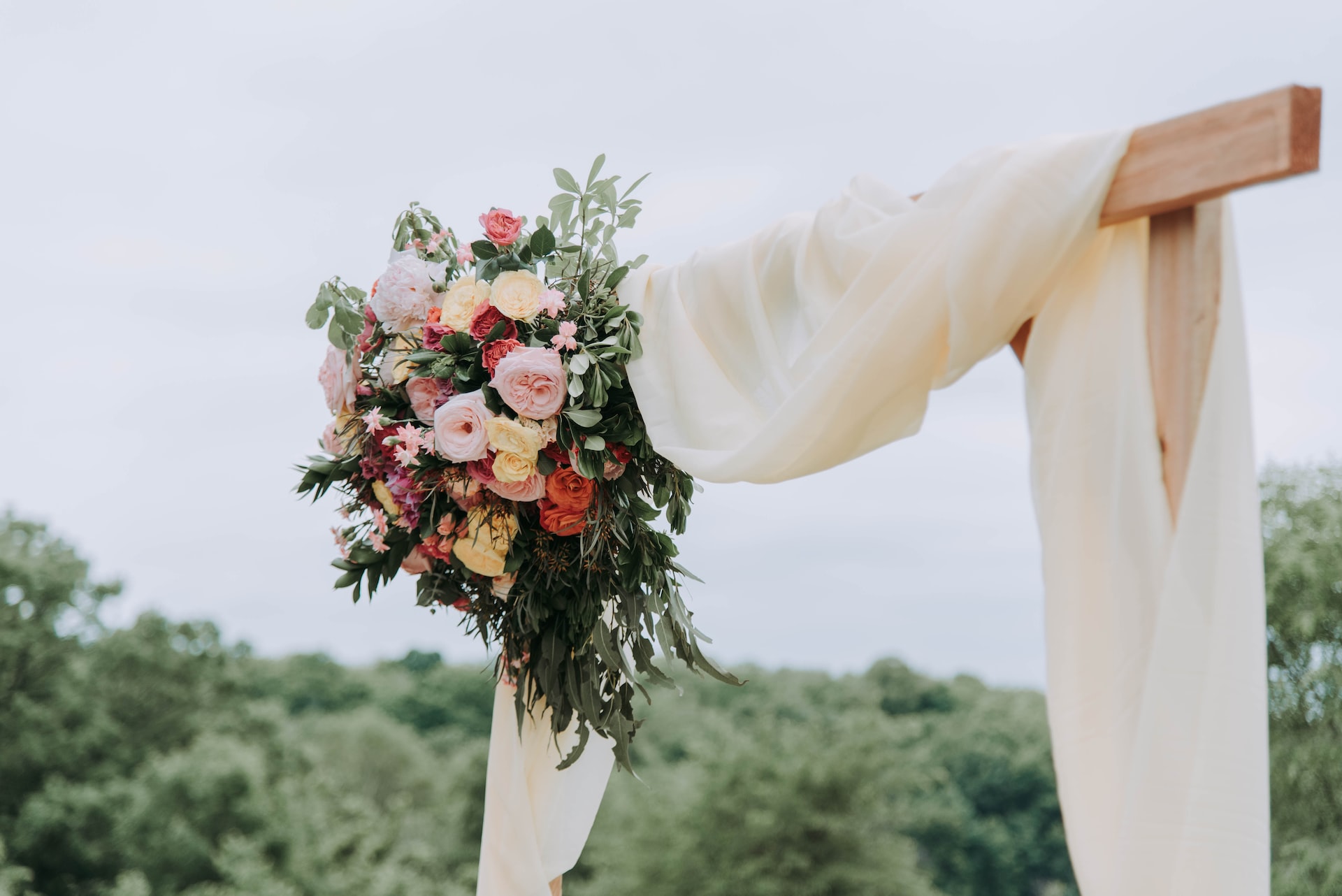 An outside wedding can be gorgeous and eco-friendly!
4. Be careful about who you hire
Look for a wedding planner who has experience with green weddings. Find bakeries and caterers that produce no waste using locally sourced and responsibly produced foods. Pick fuel-efficient modes of transportation, such as electric or hybrid cars or quaint, old-fashioned bicycles. You can make sure that your wedding is as eco-friendly as possible if you hire a team of vendors that shares your commitment to protecting the planet.
5. Reduce packaging
Avoid plastic and bulky packaging while shopping for wedding supplies, including decorations, confetti, presents, and favors. You can make this sustainable too! You quickly rack up the cost of all those plastic bags and wrappers when you shop in bulk. So try to go with more eco-friendly options when packing. Alternately, present eco-friendly items like tree seedlings, natural soaps, seed packets, and jars of honey to your guests.
6. Use more sustainable confetti alternatives
The practice of having visitors celebrate your marriage by scattering rice or scraps of paper on the church grass isn't the most eco-friendly. Other non-destructive ways exist to achieve the same or similar aesthetics without damaging the surrounding environment. And they will save you money, too! Use plant-based alternatives to traditional paper confetti. Exit tosses of biodegradable, visually attractive materials like lavender, rose petals, fresh herbs, and a medley of micro flowers are a great idea. Provide them in big containers or reusable paper bags so that visitors may easily grab a bunch on the way.
7. Think about your dress
If you want to plan an eco-friendly wedding, you need to think about the dress. Here are some ways to go about it.
Go second hand- Buying a previously worn wedding dress is a simple approach to reduce your environmental impact. But if you're not into used items, spend time learning about some eco-
friendly designers and carbon-friendly textiles. Support businesses that use green technology and strive to reduce waste.

Rent it –

Renting your wedding dress may appeal to you if you're not keen on the thought of investing in something you'll only use once. Or, if you don't plan on wearing your wedding dress again, consider reselling it!

Shop local –

Try to avoid ridiculously high transportation costs and excessive packaging by purchasing goods close to home. Consider supporting local businesses and designers instead of placing an international purchase for your wedding dress. Another excellent strategy to cut down on unnecessary packaging and transportation-related emissions is to shop in person rather than online.
8. Florals
Flowers are, without a doubt, one of the most visually striking ways to decorate a space. Thankfully, you can use a few tricks to make the most of your flower displays. Repurpose the floral decorations from the wedding to decorate the reception hall. The wedding party's flowers may double as cake table centerpieces, or you can transform your background into a picture booth.
Potted orchids, roses, and succulents also make fantastic focal pieces for tables and may be brought home and used as décor once the day is done. If you have a green thumb, you can have a long-lasting reminder of your big day right there, in your home!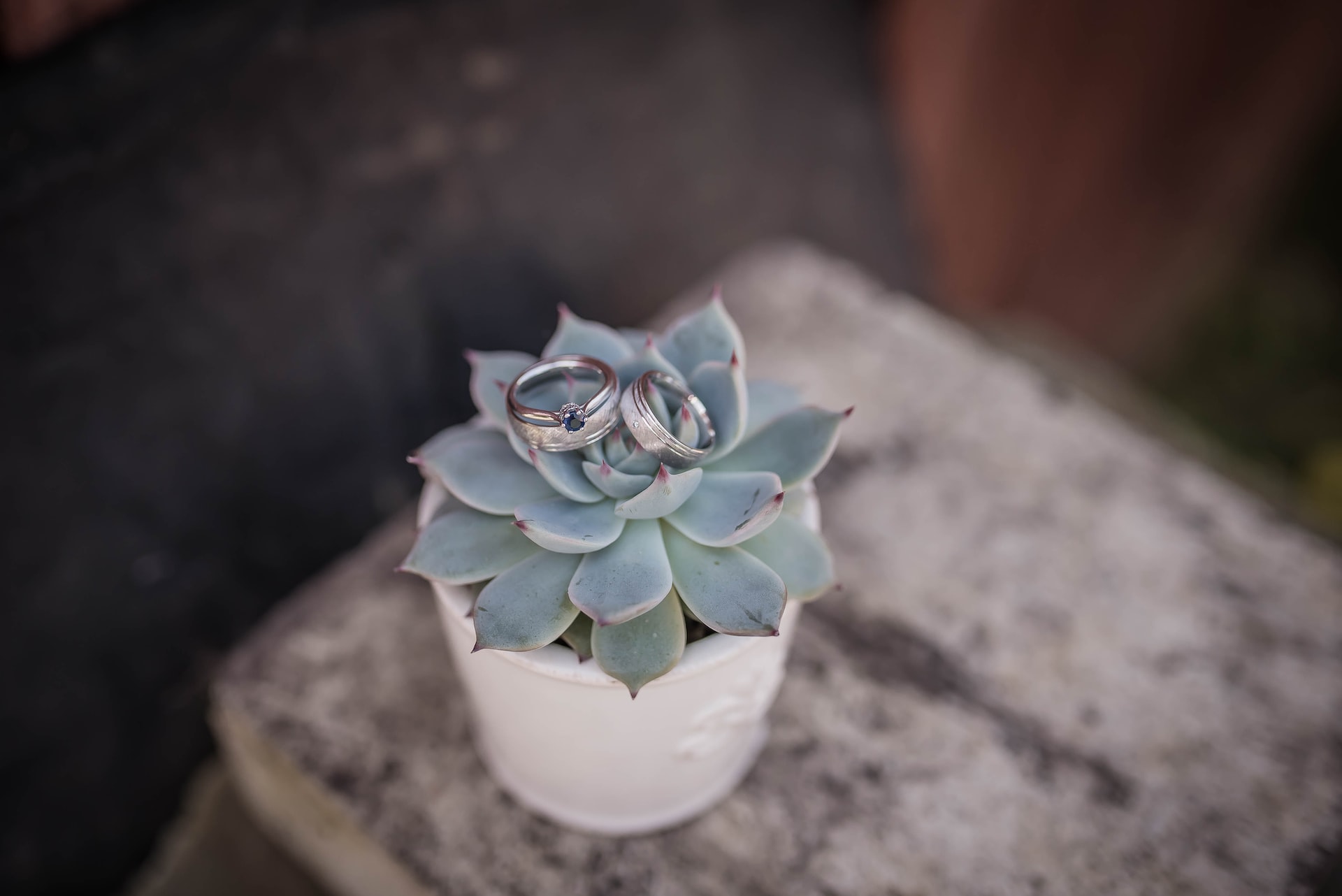 Bring a plant friend home forever to remind you of your amazing, eco-friendly wedding!
Final words
Even though weddings have been called wasteful occasionally, that doesn't have to be the case. It's possible to limit your impact on the environment in several ways by taking steps to plan an eco-friendly wedding.