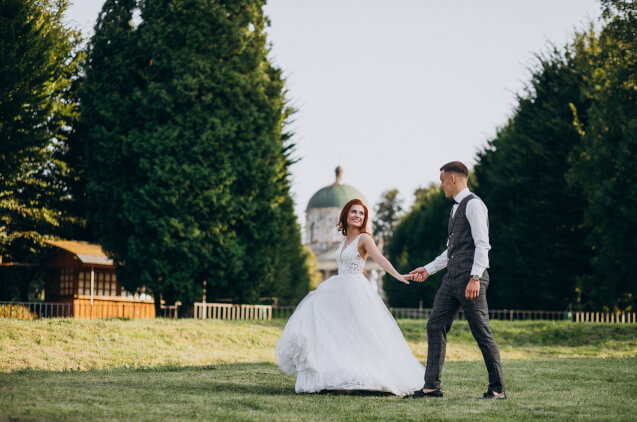 Candid shots are the best ways to capture photos that show genuine emotions and honest feelings. This is what gives them more impact and it's also what makes them so powerful. No wonder it has become such a popular technique for all kinds of portraits, from newborn and baby photography to wedding photography.
So if you are getting married, expect a lot of these photos - expect to have your photo taken as you smile, laugh, cry, and glance over to your partner. Contrary to what you might think, candid photos are more than just taking a shot of someone who is not expecting it.
Candid photos require a bit of planning, positioning, acting, and finding the right photographer to do the job. So if you are naturally shy and not used to being in front of the camera, getting those beautiful candid photos may not come as an easy task. But don't worry, here are easy ways on how to nail your candid wedding photos.
6 Ways to Take Amazing Wedding Photos
The Right Photographer
It all starts with finding the right person to take your photos - your photographer. When choosing who to hire, look at his/her portfolio, and take a look at some of their candid shots. Is their style what you want? Once you find a photographer that best suits what you're looking for, get to know them better by spending some time together.
Grab a coffee, talk about your plans, and don't forget to set a pre-wedding photoshoot. All this will allow you to be comfortable with one another and build a rapport or connection - which helps in taking those striking photos. B knowing each other, your photographer can better anticipate what you'll do next. More importantly, they will be able to capture what you both truly feel as a couple.
The First Look
The first look, or the moment where you and your partner see each other for the first time wearing your wedding dress and suit, is the perfect opportunity for a photographer to capture some of the most amazing photos. Whatever emotion you are feeling - be it excitement, amazement, or happiness - this will naturally come out of you, no matter how shy or anxious you are in front of the camera.
During this time, there's no need for your photographer to direct you. Thus, resulting in effortless candid images.
The Moment After the I Do's
After your ceremony, you should take some time to focus on each other. You have already said your "I Do's" and are officially married to one another. Surely, you're still both swimming in a sea of emotions. So this is the perfect opportunity to capture those meaningful candid photos. Not only will they look magnificent but they can help you relive those feelings you have at that exact moment forever.
The First Dance
Your first dance as a married couple is certainly one of the highlights of your big day. It's also one of the best moments for a photographer to take candid shots. During this time, you'll be too focused on one another that your photographer doesn't need to do anything but document that moment through their shots.
Pre and Post-Wedding Ceremony
Gathering with your loved ones naturally brings out your "normal" self without worrying about how you'd look in your photos. This is why most photographers will encourage you to mingle with your guests and just have fun with your entourage party before and after your wedding ceremony.
Just Breathe and Relax!
The most striking candid photos are results of real moments. These are the times where a couple just relishes and enjoys their day. So just breathe, relax, and forget the need to do it right. Let things fall naturally in place and stop trying to control everything. This is the best way to get those beautiful images.
Final Thought
You might think we're forgetting something but we're saving that for last. One of the most notable moments of your wedding day - your exchange of vows - leads to amazing and unexpected photos. Your smiles, laughter, loving glances, and even tears make the most heartfelt candid photos that you can have from your wedding day.
Certainly, photos will be the biggest keepsakes of your event. When the moment and high emotions pass, your photos will remain. This is why a photographer and photo booth are considered must-haves for every wedding.