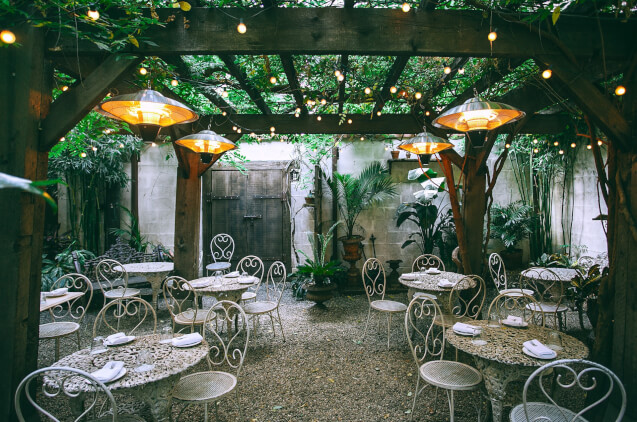 Looking to add greenery to your event design? With a touch of ingenuity, you can effortlessly turn any venue into a captivating, nature-inspired haven. Imagine vivid foliage, fragrant blossoms, and lush greenery gracing your event, making it truly unforgettable for all attendees. In this article, we'll share unique ways to add a touch of something special, taking your celebration to the next level. Prepare to be inspired and let your creativity flourish as we explore concepts like vertical gardens, living ceilings, and more! Let's design an awe-inspiring event that celebrates nature's beauty and leaves a lasting impact!
Vertical Gardens
Vertical gardens are an incredibly appealing method for integrating greenery into your event design. Walls draped in cascading vines, succulents, or ferns create a stunning backdrop for any function. Craft your plant-filled masterpiece using wooden pallets, metal grids, or repurposed picture frames. For added visual interest, include flowering plants that provide a pop of color. Vertical gardens are also versatile and suitable for a wide range of events, such as outdoor weddings, corporate gatherings, or intimate soirees. With vertical gardens, you create a striking focal point and showcase your love for all things nature.
Living Ceilings
Living ceilings offer a remarkable way to add greenery to your event design, enveloping guests in a captivating canopy overhead. Suspended foliage arrangements or hanging plants can dramatically transform any venue! Use ivy, ferns, or air plants to create an enthralling, nature-inspired ceiling. To enhance the atmosphere, intersperse twinkling fairy lights for a magical touch. For a more luxurious feel, combine different types of blooms, such as roses, peonies, or lilies. Living ceilings are ideal for events seeking to embrace the beauty of nature while also making a statement. By exploring this innovative approach, your event will reach new heights, both literally and figuratively.
Greener-Covered Arches, Backdrops, Tunnels, and Walkways
Greenery-covered arches, backdrops, tunnels, and walkways may be more familiar elements in event design, but they can still be reinvented with a creative twist. Arches crafted from intertwining vines and blooms add a romantic touch, while greenery-filled backdrops serve as picturesque photo settings. For a whimsical experience, design tunnels adorned with lush foliage, strings of lights, or hanging flowers, guiding guests through a botanical wonderland. Transform walkways into natural paths by lining them with plants, petals, or even moss. Make sure to use various textures, colors, and types of greenery. This way, you can create custom, inventive designs you couldn't find anywhere else.
Wildflower Meadows Decor Statement Pieces
Wildflower meadows decor statement pieces are a refreshing approach to incorporating natural elements. These vibrant, untamed arrangements convey a sense of wild beauty, ideal for weddings and events where you want to celebrate all things natural and untamed. Use wildflowers as centerpieces, mingling them with grasses and herbs for an enchanting, textured look. Combine colorful blooms like poppies, cornflowers, and daisies for a striking visual effect. Create aisle runners, chair decorations, or even whimsical flower carpets adorned with wildflowers. As you may be able to see, these versatile pieces can effortlessly enhance various event spaces, from rustic barns to elegant ballrooms.
Moss Graffiti
What is an innovative way to add greenery to your event design, create an eco-friendly vibe, and all while making a bold statement? Moss graffiti! Moss can be shaped to spell various words or phrases. For example, you can spell out the couple's names for weddings, company slogans for corporate events, or inspiring quotes for gatherings. You can also create intricate patterns, logos, or images using this living art form. To incorporate moss graffiti, consider using it on walls, panels, or as part of your event's entrance. This eye-catching technique showcases your creativity and commitment to an environmentally-conscious aesthetic. And all of your attendees may follow in your footsteps.
Chandeliers Made from Plants
Elevate your event's atmosphere with the enchanting touch of chandeliers made from plants. These living masterpieces seamlessly combine elegance and natural beauty to create a stunning focal point. Select from an array of plants, such as cascading ferns, lush ivy, or even delicate flowers, to design a chandelier that complements your event's theme. The professionals at Zippy Shell Columbus suggest packing these intricate creations carefully when transporting them to your venue. Ensure they are cushioned with protective materials and secured in place to avoid any damage. And once carefully placed at your event, they may also serve as both conversation starters and striking decor.
Flowery Curtains
Flowery curtains are an enchanting way to infuse your event with a touch of whimsy and romance. By weaving flowers into your drapery, you can create an ethereal garden-inspired atmosphere that enchants your guests. Start by selecting blooms that match your event's color scheme and style, such as roses, peonies, or wildflowers. Make sure they are large enough to be visible but not too large to take the glory from the rest of the party. Carefully attach the flowers to your curtains using floral wire. However, ensure they're securely fastened since you do not want to risk them falling over and ruining the appearance you've worked hard to make.
To enhance the effect, consider incorporating greenery like ivy or eucalyptus for added texture or depth. As the soft fabric billows gently, the flowers will appear to dance in the breeze, creating a captivating view for photos or a dreamy partition between event spaces.
Terrarium Centerpieces
Terrarium centerpieces are miniature ecosystems housed in glass containers. And they can easily become stunning focal points on your tables. The beauty of these terrariums lies in their versatility; choose from a variety of plants, such as succulents, ferns, or mosses, to create a captivating miniature landscape. To personalize the terrarium, incorporate small figurines or decorative stones that complement your event's theme. Simple to assemble and easy to maintain, terrarium centerpieces not only add visual interest but also serve as unique, eco-friendly favors for your guests. Don't worry; since they are so versatile, they can be quite cost-efficient for anyone planning a dream event. Therefore, when looking for ways to add greenery to your event design, consider terrarium centerpieces for an unforgettable touch.