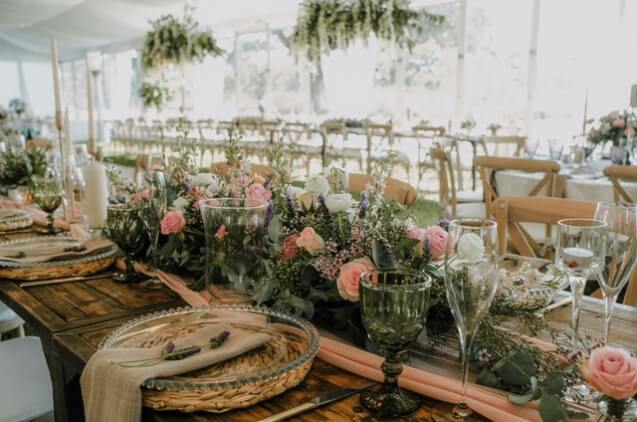 The sun is out, the day's getting longer, and the alfresco entertaining season has officially begun. After a long winter cooped up inside, nothing's more satisfying than the thought of chalkboard signs, tasty seasonal food, twenty-ingredient cocktails, bar carts, and mingling in good company. And don't worry; despite what the Internet would have you believe, planning an outdoor get-together doesn't have to be daunting – especially when you have a solid decoration foundation to rely on. That is why we tapped some of the best event planners in the industry for some tips and must-have items to help your space reach peak party with minimum effort. Whether you're planning a backyard BBQ bash, feisty fiesta, or a charming luncheon, make sure to brush up on this list of the most popular rental items for outdoor parties.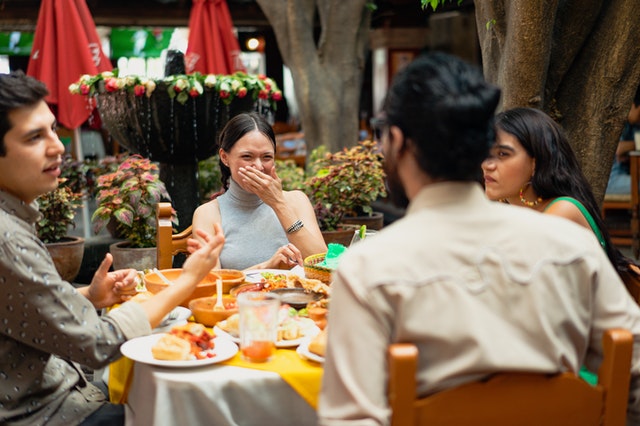 Spring has arrived, and it's time for tasty drinks, delicious meals, and great conversations.
Tents
We hope you get to enjoy a gorgeous bright-blue-sky day for your alfresco shindig, but there is not really a way for us to know that – or you, for that matter. You can try all you want to micro-manage every detail, but you're still at the mercy of the weather. The clouds may come rolling in, or it might be a blazing hot day – it's the one thing you cannot control. But, rain or shine, the party must go on! Setting up some tarps or party tents can save your event from getting rained out or offer shade and shelter to the event-goers if it's a scorcher. Hosts are truly spoilt for choice when it comes to shapes and sizes. Depending on their space, layout, and capacity, they can opt for anything from a small 10 x 10 frame tent to a large 40 x 40 pole tent.
But weatherproofing an event isn't the only reason tents are one of the most popular rental items for outdoor parties. Another reason is that they can change the entire tone of a party – and it all boils down to the right accessories. For instance, people often rent items like tent doors and sidewalls, tent linens, and drapes for their outdoor events.
Stylish furniture
When planning an event, a seating area is an absolute must. For one thing, your guests will feel more comfortable, rather than restless and tired. This, in turn, will make them want to stay longer and celebrate the occasion with you. Besides tables and chairs, hosts typically include various stations such as:
dance floor
dining area
bar area
buffet
etc.
It all depends on the event they're organizing. This can create a perfect flow, a more relaxed atmosphere where event-goers can move about and mingle. But it can also offer them a seat if they need to rest their feet after shaking their groove thing all evening. Last but not least, decorative furniture can enhance the theme of your outdoor party, adding that "wow" factor to the ambiance that your guests are sure to enjoy.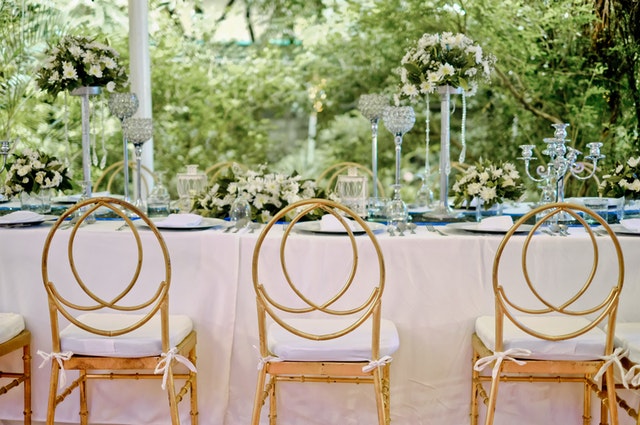 Make your guests more comfortable by incorporating a seating area in your party set-up.
So, head to the local event rental company to check out their collections, and choose your absolute favorites to make your celebration a hit. Renting outweighs the pros of buying furniture every time: it's a more convenient, simple, and cheap alternative. With buying, you must think about what to do with all the furniture and find a safe place for everything when the event is over, and you call it a night. In that case, people usually go with portable storage units because the services typically include the crew bringing the unit to you and even packing everything up nicely.
Tableware
Tableware isn't just the crockery for serving food, but rather the main protagonist of your dining tables. It sets the mood, making dining en plein air more enjoyable and your outdoor soiree more stylish. The invitations you send will give your guests an idea of your party's theme and whether the dress code is informal or formal. This, then, sets their expectations of the dining experience accordingly.
Laminated glass, melamine, bone china, and polypropylene are some of our top picks for durability and heat resistance, whereas design style is best decided by yourself. You'll first need to determine your event's overall concept and theme and pinpoint the type of crowd you're expecting. Finally, match everything with your carefully planned menu.
Glassware
Glassware is next in line on our list of the essential and most commonly rented items for alfresco events. On hot days or warm evenings, you'd want your event attendees to stay hydrated, relaxed, and happy. Plus, you can't "raise your glasses" without a glass, can you? So, first things first, make sure to have enough glasses to keep the good times going – one per person is not going to cut it. Next, is your event cocktail party chic, elegant affair, or more of a casual buffet set-up? We're only asking because your barware will vary depending on the overall feel of your event. And finally, make sure that the glassware you choose accompanies your drinks menu and highlights the drinks you're serving. Cheers!
Linens
No, we aren't done with the table talk – not yet. Another thing you'll need is linens. And, trust us, they do far more than protect the tables and soak up spills. Linens add color and personality to your party, and they support and highlight your event mood or theme. Start with a crisp, clean tablecloth as your foundation. Then, top it off with a layer or two to enhance the look. Finally, pick your napkins and use them as the color spots on your table. Finish the look with a stylish chair cover and chair sash.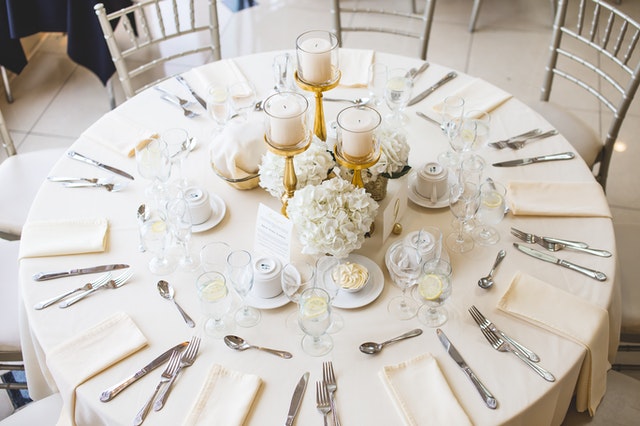 The linens you choose for your event can complement an entire sitting area and punctuate the event mood.
Lighting
One of the most sought-after rental items for outdoor parties is lighting. This must-have offers an extra flair to your event, especially in the evening or night. It truly takes an event to the next level. And even more so if it highlights certain elements or areas of the event set-up, ties your theme together, blends incorporated décor and functionality, and sets the tone for a perfect night with nearest and dearest. There are plenty of choices, from globe lighting to scoop and string lights to spotlights. You might just be amazed what a little bit of this extra flair can accomplish!