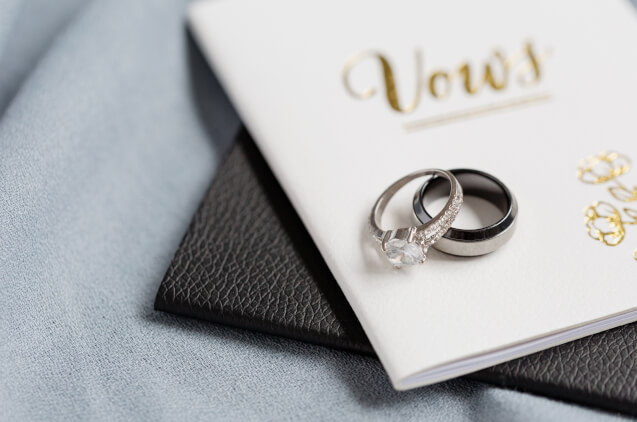 photo cred: Sarah Pflug

Thanks to the growing popularity of Honeyfund, The Knot Cash Fund, and other cash wedding registries, asking for money as a wedding gift has gone from being poor taste to being a trend. With the average guest spending nearly $200 on a wedding gift, that money can help the bride and groom pay off wedding expenses, save for their future, or start their marriage debt-free.
Whether you have a cash registry or simply anticipate some large monetary gifts, here are some responsible ideas for making the most of your money.
Insure Your Future
Although you might be tempted to blow your money on the honeymoon of your dreams or a down payment on a fancier car, it's wiser to turn your money into a long-term investment. One way to put the money toward your future as husband and wife is to use it to purchase insurance.

Although end-of-life plans are the last thing you want to think about as newlyweds, the fact remains that your vows are 'til death do you part. By putting your money toward life insurance or final expense insurance, you can ensure both parties are supported during financial hardship. For instance, final expense insurance, also called burial insurance, helps cover bills if either of you passes unexpectedly. It also helps pay off debts and cover funeral expenses, which can save the surviving spouse thousands of dollars. Some policies require medical exams and rates may vary, so do your homework before investing in any insurance policy.
Pay Off Your Debts
These days, the average wedding costs nearly $35,000. As such, it's no wonder why nearly one-third of newlyweds reported going into debt due to their wedding. Rather than starting your marriage off on the wrong foot with tens of thousands of dollars in potential debts, consider using some of those cash gifts to pay off those bills. This will be an investment in your relationship and in your financial future together as a couple.
Invest It
Another responsible option for newlyweds is to use the money as a down payment on your first home together as husband and wife. Before taking this route, however, use a mortgage calculator to determine how much house you can afford. You want to make sure your investment is financially doable; otherwise, you'll be adding unnecessary stress to your first several years (or even decades) of matrimony.
Alternatively, you might consider investing money in the stock market. Before investing together as a couple, have a conversation about finances to make sure you're both on the same page. Especially if one partner is a risk taker while the other is financially conservative, US News recommends discussing your money philosophies and financial goals.
These days, most people invest in the stock market through a brokerage, which can be as simple as creating an account on a brokerage's website. To minimize risk, spread your stock options across multiple different accounts.
A Note on Cash Registries
Although you might be tempted to forego wedding gifts altogether in favor of a cash registry, this can still be a risky move. Not all guests will comply, and there's no guarantee how much money you'll receive from the ones who do. When it comes to asking for money as your wedding gift, you should still consider some etiquette guidelines.

First, never include money registry information in your wedding invitations. "To do so implies that a guest is required to give you a present," The Spruce notes. Instead, wait until guests RSVP and see if they ask you about your registry plans.

Finally, don't be surprised if some of your guests, especially those from the Boomer generation, still insist upon buying you a physical gift instead of donating money. Traditional registries might be a thing of the past for younger brides and grooms, but older generations still tend to frown upon cash gifts for major life events.
Regardless of how your guests feel about your cash registry, remember that it isn't about the gifts. The bigger picture is that you're celebrating your special day with the people you love the most; everything else comes second to that.
Author: Brittany Fisher
Creator and Head Writer
Another great read can be found
here
!