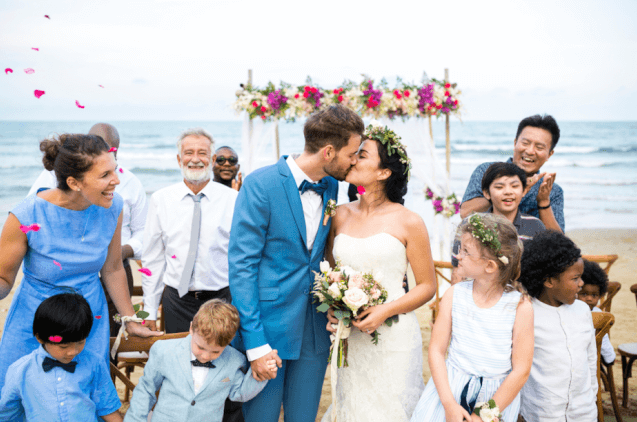 When you first start with your wedding planning, one of the biggest decisions that arise right away is whether to hold your wedding outside or inside. While some prefer the tradition and formal vibe that comes from holding a wedding in a church, it is increasingly common to hold weddings outdoors where the tone is a bit more casual and the scenery is a bit less stuffy.
Looking at some of the benefits of outdoor weddings will help you choose the right setting for your big day. If you think the choice is obvious, reading about some of the pros and cons of indoor and outdoor weddings will help you spot some of the factors that maybe you have not yet considered.
Picturesque Backdrop
With an outdoor wedding, most of the decoration work is already completed for you by the natural environment. Natural landscapes, vineyards, and beach fronts are all inherently beautiful and will provide your wedding with a stunning backdrop. Outdoor settings such as these are great for holding a memorable wedding while providing everyone with a dose of fresh air and abundant vitamin D from the sun.
Not only will an outdoor wedding in a beautiful location set the right tone for the ceremony, but this will aslo add to your decor, allowing you to spend more time on other aspects of the wedding.
Maximize Space
For big weddings, outdoor venues will ensure that there is enough space to seat everybody. Stuffing everyone into an indoor space, especially for those weddings with larger guest lists, can leave people so cramped that they cannot enjoy the ceremony.
If your guest list is slowly expanding beyond the limits of any normal indoor space, then consider moving your event outdoors.
Natural Light
Natural light makes the photographer's job a lot easier and you will be able to capture picture-perfect moments on your big day from any angle. Outdoor weddings also make it a lot easier for a photographer to move around and capture every moment of the proceedings.
Family-Friendly
Outdoor settings are generally a bit easier for families with younger children. Not only is there enough going on in the natural environment for kids to be entertained, but outdoor spaces provide areas for running around and taking a break whenever they get a bit too stir-crazy in their seats.
If your guest list includes a number of young children, then holding your wedding outdoors can help to accommodate these guests.
Things To Consider
Outdoor weddings do have some disadvantages that you need to consider before making the decision for yourself. Weather worries are an obvious concern. Be prepared for any kind of weather if you are planning an outdoor wedding. You may find that you and your guests are left standing in the rain. Conversely, outdoor weddings on a hot day can leave everyone sitting in perspiration. With indoor weddings, you have the benefit of not having to worry about what the weather may bring on your special day.
Naturally, renting a tent a good way to keep everyone dry and in the shade. When renting a tent, climate control is an option you can consider.
Plan Your Outdoor Wedding
These advantages represent the biggest reasons why outdoor weddings are increasingly popular these days. If you want to get in on the trend and hold your wedding in a natural setting, then consider all of the pros and cons and choose the best place to celebrate your big day.