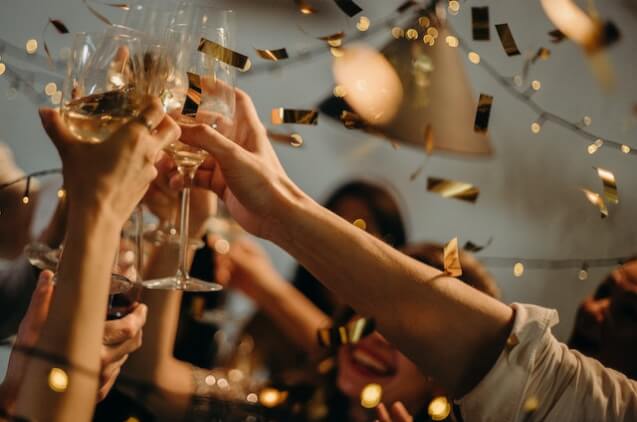 Are you currently in the process of organizing an event or a party? Whether you're hosting a small event or a large party, it's important to be aware of the essentials each party requires. Our ultimate event party checklist is designed to help you cover all the vital elements when hosting and organizing an event, whether private or corporate event. So, stay tuned if you want to learn about the crucial things you can't go without, from food and entertainment to RSVP management and parking.
Event party checklist: The essentials
If you're, for example, moving to a new home and wish to host a moving-in party, you might feel overwhelmed with all the tasks that lie ahead. Luckily, the professionals behind Zippy Shell DMV gave us helpful advice to ensure your move and party planning go smoothly.
First and foremost, they recommend starting the event planning process early. As relocation is a stressful and time-consuming experience, it's crucial to allow yourself time to dedicate yourself to event planning fully.
Secondly, consider the layout of your new home when planning your party. Be careful to account for the flow of guests and the space available for seating and mingling. Ultimately, if you're hosting a larger event, you might need to rearrange the furniture or rent additional seating and tables to accommodate everyone.
With that said, let's dive into the list of essentials for each party and event planning. This way, you'll know you've thought of everything and that you'll be able to give your guests an enjoyable experience!
Guest list
Primarily, it's crucial to decide who you'll be inviting to your event. Then, make your guest list and include all the contact details you'll need. However, while doing so, it's important to consider the size of the venue and the number of guests it can accommodate. This brings us to the next thing on our event party checklist.
Venue
Also, before making any other decisions about other things on this list, it's important to consider the size of your venue and the event type you're hosting. For example, if you're hosting a smaller gathering like a holiday dinner, your home or backyard might be suitable for such an event.
On the contrary, renting a venue is the right option if you think of a significant event. When selecting a venue, apart from aesthetics, you'll need to think of the
Finally, think about the theme of your event when selecting a venue. Is it going to be a formal dinner party? Or maybe a theme party? Or perhaps a casual gathering? Knowing whether the place you chose can accommodate what you're imagining is essential.
Decor
We can all agree that no party is a party without decorations. So, whether you're going for a specific theme or want to add some color and personality to your event, decorations are a must-have.
Balloons, banners, and tablecloths can create a festive atmosphere. Also, you could get creative with DIY decorations like centerpieces or photo backdrops. Finally, don't forget to incorporate lighting to set the mood and add to the ambiance.
Decorations are a must on your event party checklist.
Food and beverages as the queen of any event party checklist
No event is complete without this one. And usually, apart from the atmosphere, people tend to remember the taste of food and drinks from an event they took part in. So, when thinking about food, think about the type you'll be serving and whether it will be a sit-down meal or a buffet.
Moreover, you should consider any dietary restrictions when creating the menu. Plus, you shouldn't forget to include vegan and vegetarian options. Finally, you could also incorporate a signature cocktail that goes well with the theme of the event.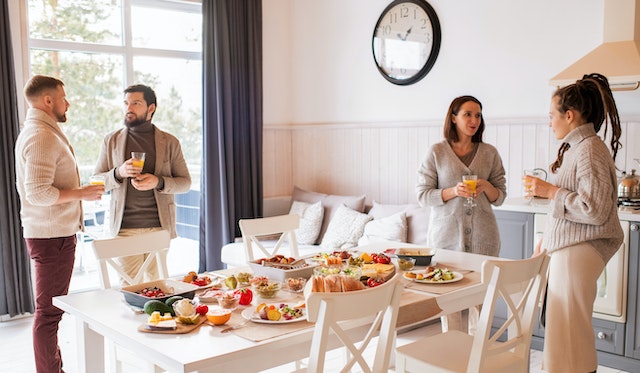 Food and beverages are the crowns of each event.
Entertainment
Music and activities are vital in ensuring your guests are having a good time. If you're hosting a small gathering, then a movie night or a small gathering would be the perfect option.
On the other hand, hiring a DJ or a band for larger events to keep the atmosphere and energy high are a more appropriate option. Additionally, you could incorporate interesting activities, like photo booths, trivia, and games.
RSVP management
Then, to ensure you have a precise number of people who will be attending for sure, it's essential to make your RSVPs. You can do it the old-fashioned way by handing out the RSVP along with the invitation, which pictures your care and beautiful charm.
If, however, you live a busy life, using modernized online tools to send out your invitations and RSVPs is a more practical option. You can do this by sending invitations by email or social media and tracking responses.
Finally, you can also use online tools like Eventbrite or Evite to manage your RSVPs. This will help you plan for the amount of food and drinks you'll need and ensure enough seating for your guests.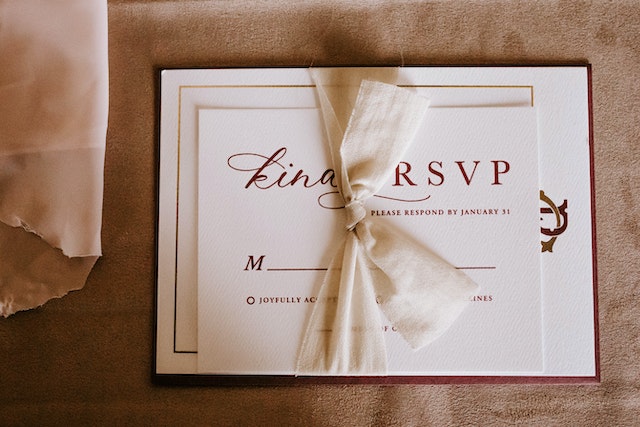 You can choose the traditional or a more modernized (online) way of sending invitations and managing your RSVPs.
Parking and transportation
As we're approaching the end of our list (and the event itself), there are a few more things to keep in mind. One of the often overlooked ones is parking. So, make sure your event has parking options. If you're making the event further than your guests live, arranging transportation options for them would be beneficial, thoughtful, and generous of you.
For instance, if you're hosting a large event, you could rent a shuttle bus to transport your guests to and from the venue. If, on the other hand, you're hosting at home, you can provide your guests with info about public information or call them an Uber.
Clean-up and maintenance afterward
And finally, it's imperative to clean and maintain your home after your event. So, if you're hosting the event at home as you meet some of your new neighbors, ensure enough trash bags and cleaning supplies are on hand. You'll also want to make sure any equipment or rented items are returned in a timely manner.
Final thoughts on the ultimate event party checklist
We understand that planning a successful event can be overwhelming. So we hope that with our ultimate event party checklist, we made things a little easier for you. This way, you know what you mustn't forget if you want your event to be a success. Good luck and happy planning!