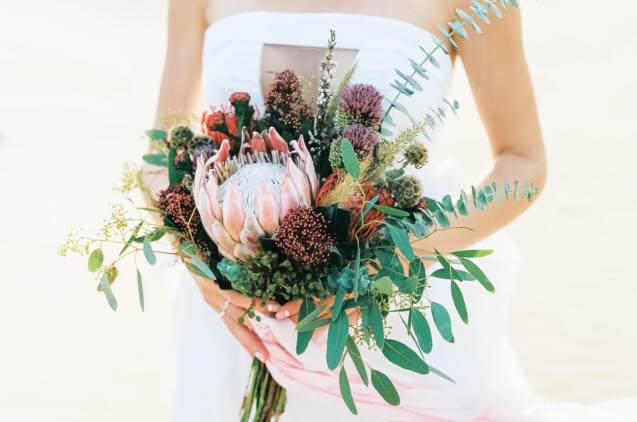 Photo by zola.com
Flowers, bouquets, centerpieces and arrangements can quickly add up when it comes to your wedding budget. One money-saving hack is to select flowers that are in bloom so that you can get lower prices and higher quality flowers.
There are some florals that bloom year-round, but if you're wanting to feature some real stunners, go with a seasonal bloom. Zola put together a seasonal bloom guide to help you pick some beautiful florals for your wedding or special event.
Talk to your florist or visit local flower markets near your wedding date to get the freshest flowers. Sometimes weather patterns may alter the blooming stage so you may end up having to order and ship in flowers if you're set on a certain type.
Fresh flowers make a huge difference when it comes to decorating your venue. The bridal bouquet is usually the center of attention, but decorating each table or food station with florals and decor can really turn things up.
For some extra inspiration, Zola also created these inspiration boards for each season to provide some ideas and color suggestions.
Spring Bouquets
Light, fresh, airy and sweet, these spring blooms bring a delicate touch with lush florals.
Photo by zola.com
Summer Bouquets
Summer blooms tend to be bolder and brighter with pops of yellow and purple.
Photo by zola.com
Fall Bouquets
Warm things up with passionate reds and deep wine colors in your fall floral arrangements.
Photo by zola.com
Winter Bouquets
Add some drama with rich jewel tones and lush greenery for a perfect balance of romance and elegance.
Photo by zola.com
Author: Amanda Tallent
Junior Content Marketing Specialist