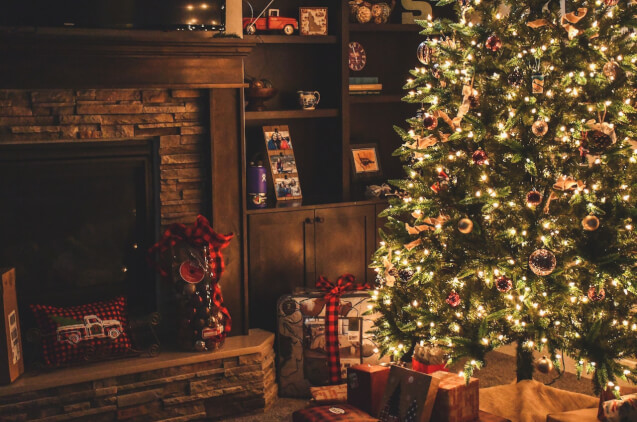 Everyone knows that Christmas is one of the most joyous winter holidays ever. Everyone is getting ready on time, buying new clothes, decorations, and other things for Christmas. The work of preparing food and all the decorations can be demanding especially when it comes to decorative ornaments. It is in everyone's interest that everything is perfectly arranged during their Christmas party. If you are the host of the Christmas party, perhaps you can consider the option of having experts help you organize it. That is why it is sometimes a good and practical solution to hire professionals for your Christmas party and make the atmosphere perfect. Professionals can take care of unpacking decorations and arranging and storing them. There are many benefits of hiring professionals for your Christmas party. That way, everyone present and you, as the host, will enjoy it.
Basic preparations for a Christmas party
When organizing a Christmas party, some things are considered basics for any budget, namely:
Christmas tree - you don't want your Christmas party to go by without this representative Christmas decoration

decorative lightning - they make the atmosphere more festive

wine - you must always have an open bottle of wine

Christmas food - sweet and spiced nuts and Pinecone Cheese Balls can be ideal snacks for a Christmas party
All of the above is part of the endless list of possible options for Christmas parties. When choosing all these Christmas trinkets, professionals can be of great help.
Planning a Christmas party
First, you should have a suitable plan for the Christmas party itself. Will it be a daytime version or something like a holiday dinner party? What will be the theme of the party, etc.? If you are undecided about the Christmas party's theme this year, and what colors you want to dominate the party, there is a solution. The potential direction of hiring professionals for your Christmas party can help you with these decisions. Discussion topics, Christmas board games, and all the innovations can be included in this year's Christmas party. You will be glad that your Christmas party is different from last year and that you will hear new ideas and suggestions about the plan and program.
Improve the management of your financial possibilities
As with any type of party, any kind of holiday, hosting a Christmas party requires certain costs. Usually, everyone has a certain amount of money. You should distribute the money evenly to organize the Christmas party. It is possible and normal to get confused in the planning process and lose track of the necessary money and how to channel it. There is so much desire for everything to be perfect, and as it should be for a Christmas festive atmosphere - it is possible to get lost in all that. In these situations, the decision to hire professionals for your Christmas party can improve the management of your finances. They can help you prioritize and make it clear what is necessary and what is not for your Christmas party.
Hire professionals for your Christmas party and watch the magic it brings
One of the many reasons you should hire professionals for your Christmas party is the decoration situation. Since Christmas decorations can be of all kinds and materials, they must be conveniently packed and unpacked. When it comes time to prepare for the Christmas party, the easiest part is the decorating process itself. Care must be taken when unpacking or storing decorations. A large Christmas tree should be adequately packed, as well as lights and decorations for the Christmas tree. Finally, when the Christmas party is over, all this needs to be stored again. Experts for these procedures can make sure that your decorations are safe until next year when packing Christmas decorations for storage. Then you can use them again and see the same magic as every year. Perfect and undamaged decorations will be responsible for the Christmas spirit of your Christmas party.
It would be best if you kept the packed Christmas decorations in a storage unit. Whether it's a self-storage unit or something else, it doesn't matter. It is necessary to provide enough space for the boxes in which they are located throughout the year until the holiday season comes - that is, Christmas. When packing Christmas decorations for storage, you should use specific packing supplies corresponding to a specific type of decoration. Christmas tree ornaments are the most fragile among decorations, so they should be packed in something where they will be least damaged. Each decoration has its material characteristics and size and should be packed properly. For this reason, hiring professionals can contribute a lot when storing decorative Christmas details. In addition, professional help can be useful if you are short on time and don't want to bother packing Christmas decorations.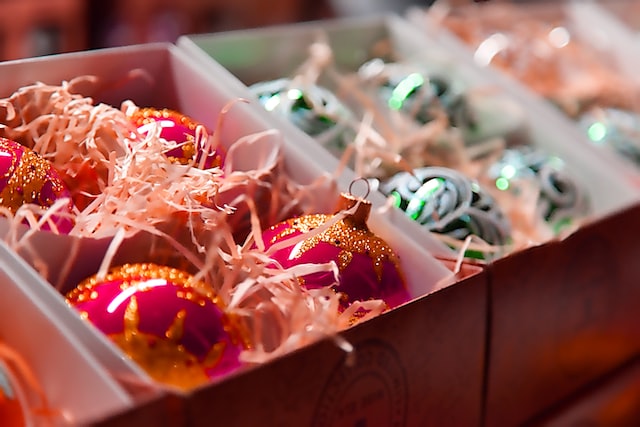 When packing decorations, it's a good idea to hire professionals for your Christmas party
Decorating the space of the Christmas party
Maybe you just ran out of inspiration for decorating your Christmas party this year. It's no wonder if you think you need a guide to picking the perfect way to decorate your Christmas party this year. With the advice and help of professionals, you won't need that or anything extra.
Designing the interior of the Christmas party is inevitably a crucial moment. There are many ways you can decorate your Christmas party. The combination of the colors of the ornaments with the colors of the lights, then the Christmas candles, and many others.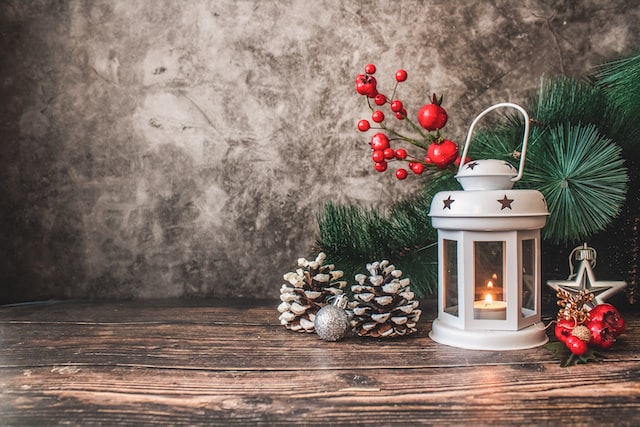 If you hire professionals for your Christmas party, you don't have to worry if you don't have time to choose
the decorations for your Christmas party
Games and activities for the Christmas party
It's winter, the holidays, everyone is happy, and it's natural to have fun at the Christmas party! If you have decided to hire professionals for your Christmas party, you will have no problems organizing activities for your Christmas party. If you have run out of creativity or ideas - everything can only get better with their help. You will have the opportunity to play games with your family and friends that you haven't in previous years or do activities that you would do for the first time this Christmas. You can also go outside and light sprinklers that will glow beautifully in the dark. The possibilities are endless!
Santa Claus and Christmas presents
Although everyone is happy when the winter holidays come, everyone is even happier when it comes to receiving Christmas presents. That's why, even by chance, don't forget to prepare gifts when you organize your Christmas party. Hope and faith in the famous Santa Claus are a feature of Christmas. And everyone at least once believed, and some still believe, in this magical personality. Nothing is more beautiful than the smiles on children's faces when they see Santa Claus. You can dress up as Santa Claus for your Christmas party, ask someone to do it, or even hire one. Whoever will be Santa Claus will certainly brighten up the entire Christmas party.
Christmas food to remember
Food at Christmas celebrations is always interesting and tasty. Food at the Christmas celebration, together with drinks, is an indispensable part of the Christmas tradition. You can prepare a variety of foods for your Christmas party. Roast turkey, cranberry sauce, baked ham, and Christmas cupcakes are a must. If you want, you can make gingerbread Christmas cookies together with your family and friends. This way, it can be fun for both children and adults; you can be creative and later enjoy the taste of these wonderful Christmas cookies. Dining with the closest people at the Christmas party is a beautiful tradition you should not miss.
Capturing Christmas memories
Since Christmas is unique and beautiful in its way every year, it would be nice if it remained in everyone's memory. For your Christmas party, you can tell all the guests to bring a good mood and put a smile on their faces. Capture memories by taking pictures and creating unforgettable memories with family and friends. Of course, experts can help you with this as well. In many aspects, they can make your Christmas party extraordinary.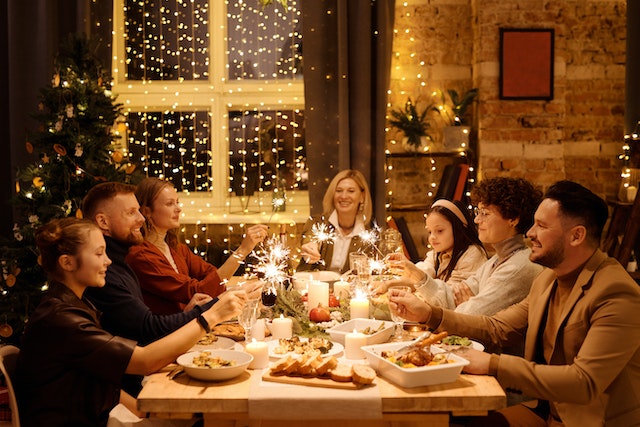 It's wonderful to capture priceless memories at the Christmas party
Taking into account all of the above
Tradition and customs are beautiful things in every culture. Holidays, each in its way, represent beautiful days when you spend time with your family and close people. Christmas holidays, especially Christmas, are one of the most magical holidays of the year. Therefore, the decision to hire professionals for your Christmas party will be of help to you and will contribute to the intensity of the Christmas spirit of the party itself. You don't have to worry about planning the program for your Christmas party this year or managing the available money.
And most importantly, experts are here to pack and preserve your Christmas decorations' flawless shine and beauty. Everything will go according to plan, and you will enjoy your Christmas party and be happy. Therefore, enjoy quality time with your loved ones in the Christmas magic.